Souper Bowl of Caring: A Win for Houston's Hungry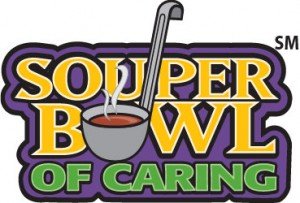 The New Orleans Saints took the win for Super Bowl XLIV while Houstonians tackled hunger through the Souper Bowl of Caring, with more than $341,000 and 1,860,000 pounds of food collected since the program started on Jan 14. And, reports are still coming in to Souper Bowl of Caring.
Leading grocers H-E-B, Kroger and Randalls Food Markets along with Houston's leading television stations: ABC 13; Channel 11 KHOU-TV/DT; Channel 39; KFTH TeleFutura 67; KPRC Local 2; KRIV Fox 26 and KTXH My 20; and KXLN Univision 45; local radio stations: KSBJ radio; Sunny 99.1 and NewsRadio 740 KTRH; the Houston Chronicle; and the Houston Texans joined together with Souper Bowl of Caring to raise awareness of hunger in our community and give everyone a chance to make a difference in the lives of others.
Young people in more than 240 area congregations and 190 schools also conducted collections of food and money as well as volunteered in the community. In addition, The Boy Scouts from the San Jacinto Area Council collected food door-to-door the weekend of the Big Game, picking up more than 211,000 pounds of food from homes around Houston.
Most of the donations will benefit the Houston Food Bank, which serves nearly 400 hunger relief agencies in 18 southeast Texas counties.
"Hunger gnaws at the spirit as well as the stomach," said Houston Food Bank President Brian Greene. "On any given day, 53,000 people of all ages, including 3,600 children, contend with hunger because they cannot afford to buy food. Meals made possible by Souper Bowl of Caring donations will help to restore hope for thousands of families and individuals who otherwise struggle to keep food on the table."
Partners in the Houston initiative join more than 17,000 congregations, schools, civic clubs and businesses signed up to participate as part of the nationwide Souper Bowl of Caring effort to transform Super Bowl weekend into the nation's largest youth-led weekend of giving and serving.
"The Souper Bowl of Caring demonstrates the power of working together," said Ron Goch, executive director of Souper Bowl of Caring. "This movement is a remarkable example of how ordinary people can do extraordinary good when we join together to help people in need."
For more information and to watch the results, visit www.souperbowl.org/houston.