Ceasar F. Barajas: Living Life on His Terms
JGoode | 2/18/2010, 10:08 p.m.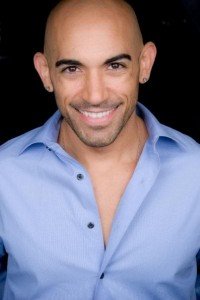 College is a sort of melting pot for the future. The "huddled masses" yearn for a better life. Students discover who they are, find partners in life, connect with forever friends, and discover their true calling. This was the reality for Ceasar F. Barajas.
All of his life he thought it was meant for him to be in the medical field. He graduated from the High School for Health Professions and joined the Navy with the hope of becoming a doctor. Upon entering Prairie View A&M University (PVAMU) as a biology major, Barajas was on his "destined track" before he was seriously derailed by the Navy who denied his request to be sent to medical school. It was at this point when Barajas realized that he didn't like his life being controlled by someone else who would not acquiesce to his desires. Immediately he switched his major to nursing but that was not a good fit either. One year during PVAMU's fabulous homecoming festivities he saw the Classic Dance Ensemble performed. Barajas watched in amazement and thought, "That's cool. I want to do that," and so he did and found his true calling. "I was like man, I love this world." For this he credits PVAMU as one of the greatest blessings he ever had.
From the hills of Prairie View to the stages of the world, Ceasar Barajas is living and breathing his dream. He has worked on and off stage, television, and film. Now his career has brought him back home. Appearing at the Hobby Center until February 21, 2010, Barajas is part of the cast of the Broadway musical "Miss Saigon." Detailing the love story of American GI Chris (Eric Kunze) and a young naïve Vietnamese woman Kim (Melinda Chua), "Miss Saigon" is a tale of love gained and love lost. Also revealed in the plot is the story of the many Vietnamese women who longed to come to America and the soldiers who simply could not or would not bring them here.
During the days of the Vietnam War, more often than not the Vietnamese women's dreams were crushed when American GIs would impregnate them and leave them with a broken heart. Kim thought Chris was the exception because they truly loved one another, but what happens to their love is the basis of the play. "People need to take away from "Miss Saigon" that this whole story line stems from the fact that amongst the atrocities of this war was a love story and love is the most powerful thing on the planet. Love can heal everything," related Barajas about his fascinating musical play.
Portraying one of the American marines, Barajas shows anything but love to the women of Vietnam; something that is the total opposite of his personal character. He shrugs and cites that is the fun of acting, "Playing roles that you are not." Playing along in Barajas' world in "Miss Saigon" is Philip Michael Baskerville, Jessica Rush, Joseph Anthony Foronda, Steven Eng, and a host of others.
"When you find your calling it is really fulfilling," said Barajas. On the 24th of this month he will be headed back to his home in Los Angeles to work on a production called the "Forbidden Zone" that will keep him busy until May. In June he returns to Europe to serve as a teacher at a dance clinic as he has done since college and end the year teaching in the states.
Barajas is a prime example of letting destiny not people dictate the future. See Ceasar F. Barajas in "Miss Saigon" until February 21, 2010 at the Hobby Center. Tickets are available by contacting the Theatre Under the Stars Box Office at 713-558-8887 or logging on to www.tuts.com for more information.