Houston Rockets Plan "Green Week" Events Leading Up to Environmental Awareness Night on March 1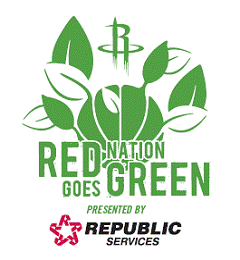 The Houston Rockets will host the third annual Environmental Awareness Night presented by Republic Services on Monday, March 1 when the team faces the Toronto Raptors. The Rockets will use in-game features to raise environmental literacy, distribute reusable red tote bags to the first 5,000 fans in attendance and offer free concourse space for Houston area groups that promote environmental best practices.
During the week leading up to the environmental awareness event at Toyota Center, the Rockets organization will participate in and host several cause-related events. A complete list of "Green Week" events is included below. This effort is part of the organization's "Red Nation Goes Green" season-long campaign to increase environmental awareness in Houston. So far this season, the Rockets have encouraged season ticket holders and other fans to participate in the Recycle Item of the Month program, as well as implementing a Green Team initiative on game nights, which involves volunteer groups surveying the seating areas during games for recyclable waste. Also, with the help of Republic Services, Toyota Center is now equipped with easily identifiable recycling receptacles throughout the building.
GREEN WEEK ACTIVITIESFebruary 23 – Tree planting at the Keep Houston Beautiful Four Corners site located at St. Joseph Pkwy. and Chartes St. This effort will be conducted by Houston Rockets players and front office staff with Republic Services employees. Photo opportunity with Rockets players will be at 2pm.
February 24 – Green Week Tweet Up Tour. Fans who follow the @HoustonRockets on Twitter will be given opportunities all day to participate in environmentally friendly activities that will earn them tickets to the March 1 Environmental Awareness game (i.e. recycle an old cell phone at a particular T-Mobile store). Information about the Tweet Up events will be posted on Twitter throughout the day.
February 25 – Houston Rockets guard Aaron Brooks and Rockets mascot Clutch will host a celebration rally for the Rockets Recycling Roundup winning elementary school at 9:30am. Nine schools have been competing in this inaugural program to collect the most recyclable waste per student and learn the importance of reducing, reusing and recycling. The winning school will be announced on Tuesday, February 23.
February 26 & 27 – Free e-cycling drive for outdated or end-of-life electronics at Toyota Center on Friday from 11am-1pm and Saturday from 12pm-3pm. Items will be accepted by Houston Rockets forward Luis Scola, along with Rockets and Republic Services staff. Acceptable items include televisions, laptop and desktop computers, monitors and peripherals such as keyboards and mice. Rockets fans who bring large items for recycling will receive two tickets to the Environmental Awareness game on March 1 (while supplies last, limit of two tickets per donor). Photo opportunity with Scola will be at 12pm on Friday.