Family Who Inspired "The Blind Side" Share Their Story In Houston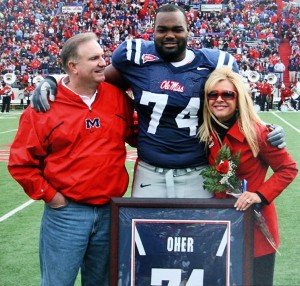 [caption id="attachment_18852" align="alignleft" width="300" caption="Michael Oher with his adoptive parents, Leigh Anne and Sean Tuohy, at University of Mississippi senior ceremonies lat November."]
Their story is portrayed in the dramatic, Oscar-nominated movie "The Blind Side". Now they're coming to share their story in person. On Thursday, March 4, from 12 to 1:30 p.m., Michael Oher – the former homeless child turned Baltimore Ravens offensive lineman – along with his adoptive mother, Leigh Ann Tuohy (portrayed by Golden Globe winner Sandra Bullock in the film), and sister, Collins Tuohy, will serve as guests of honor for Arrow Child & Family Ministries' Ambassadors Luncheon at the Intercontinental Hotel, 2222 West Loop South. Proceeds from the sold-out event, facilitated by KHOU-TV's Deborah Duncan, will benefit various Arrow ministries, including foster care and adoption programs which serve more than 800 children in over 700 Arrow family homes in Houston and across Texas.
The opportunity to bring Oher and his family to Houston was especially compelling for Arrow Child & Family Ministries Founder and CEO Mark Tennant, himself a former foster child. Tennant says, "There is a crisis involving local children that is just as devastating as the crisis in Haiti, but without the media attention. There are more than 27,000 foster children in Texas and over 463,000 in the U.S. foster care system, with 123,000 of them waiting for adoption."
He adds, "When these children turn 18, without a family to call their own, they are released from the system as independent adults. Many of these children end up living on the streets without direction and without hope."
Tennant explains, "The Touhy family saw that Michael Oher was in desperate need of a home and they gave him one. They became his support, his encouragement, his family. All it takes for children in the foster care system to be rescued from a life without hope is for one family to give one child a home."
Tennant, who recalls sleeping with a knife under his pillow as a child, as protection against the drunken, live-in boyfriend of his mother, adds, "We all have a role in providing hope to children rescued from abuse.
Any individual, family, church or business can impact the life of a child in crisis, whether through fostering, adopting, mentoring, serving or supporting."
Arrow Child & Family Ministries is leading the response to the foster care crisis from its national headquarters in Spring, Texas, by providing individual homes for children across Texas, Maryland, Pennsylvania, California and in Honduras. Arrow is engaging local churches and community partners to take an active role in raising awareness of the need in order to recruit and train more foster/adopt parents.
To learn about opportunities to make a difference in the community, visit Arrow Child & Family Ministries online at www.arrow.org.