New Orleans Artist Brings Carnival Style to 11 Houston Murals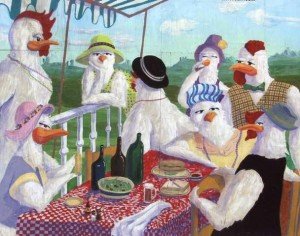 New Orleans artist Michelle Levine, just began painting eleven murals for the Heights Hospital for Animals in Houston. Heights Hospital for Animals' building was recently renovated throughout to create areas for veterinary care, boarding and retail, while the building itself was made to resemble a retro style movie theater. The new murals by Levine, entitled "Around the World in 11 Days" will add to the theatrical charm of the newly renovated building and dog boarding suites.
"I had the idea of a mural over each boarding suite representing a different country so that boarded dogs could 'visit' Italy while their owners were on vacation," says Kathleen Gallagher, owner, Heights Hospital for Animals. "When I saw Michelle's New Orleans murals, I knew she was the perfect artist to bring my vision of the kennels to life."
Levine's projects have included spectacular murals like the Heights Hospital, Mother Cluckers restaurant in New Orleans, as well as residential murals and traditional paintings. Her most recent New Orleans project is an installment called Signs of the Times, her installation of forty oil paintings representing the collapsed communities of Hurricane Katrina with portraits of the McDonald's Golden Arches wind warped by the storm.
"Whether it is sharing the extreme damage that we suffered as a result of Hurricane Katrina, or helping to rebuild the landscape by painting a beautiful mural over something that was damaged, it feels good to share the story of New Orleans post Katrina," says Michelle Levine.
Signs of the Times was included in the Hot Up Here exhibit at the Contemporary Arts Center in New Orleans which moved to Acadiana Center for the Arts to open January 9.
"Since third grade when I helped create a backdrop for a school play, I have been inspired by theater and Carnival productions, especially large-scale art," says Levine.
Born and raised in New York, but calling New Orleans home for more than two decades, Levine combines an urban design sense with traditional and production art, including paper mache objects for floats and painted Carnival ball backdrops for Mardi Gras.
During a four-year stint as the sole scenic artist at Le Petit Theatre, New Orleans' oldest theater, Levine learned to create tremendous detailed paintings at a rapid pace with the surrounding French Quarter for inspiration. The aged textures and colorful palette on ornate historic architecture were the perfect visual source for the Broadway style musicals set in the 19th century.
Levine will work on the Heights murals for several weeks and then be ready to take on additional residential and commercial projects in the Houston area. For more information, visit www.mondomurals.com or call 504-598-9858.