Houston, TX One of 41 Sites Selected for National Program to Fight Childhood Obesity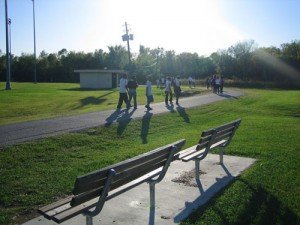 CAN DO (Children And Neighbors Defeating Obesity) Houston has been awarded a $360,000 grant from the Robert Wood Johnson Foundation (RWJF) to improve opportunities for physical activity and access to affordable healthy foods for children and families in three Houston Super Neighborhoods: Magnolia Park, Sunnyside and Independence Heights. Based on a rigorous selection process that drew more than 500 proposals from across the country, Houston is one of 41 sites selected for the RWJF Healthy Kids, Healthy Communities initiative.
The negative consequences of childhood obesity have been well-documented, yet almost one-third of U.S. children are overweight or obese. Houston, Texas (Harris County) is no exception to this trend. An alarming 27% of fourth-grade children are classified as obese (BMI≥95%), and an additional 19% are classified as overweight (BMI ≥85% to <95%). With a large minority population, household incomes below the national average, and a large uninsured population, Houston is in great need of environmental and policy changes to prevent and diminish childhood obesity.
CAN DO Houston has already made a difference in the Magnolia Park area by demonstrating that after-school transportation arranged by the Houston Independent School District from Briscoe Elementary to Mason Park -- can increase physical activity. Mr. Juan Gonzalez, Principal of Briscoe Elementary and CAN DO Houston board member, has noticed an improvement in standardized test scores as a result of improved rates of participation in physical activity among the students.
CAN DO Houston hopes to build on such successes by leading and continuing community initiatives such as: addressing safety concerns at local parks; starting walking clubs; providing after-school cooking classes for parents and students; offering grocery store tours that teach families how to read nutrition labels; and, coordinating volunteers.
"We are extremely pleased to be selected to receive this funding," says Dr. Beverly Gor, RD, LD, Executive Director for CAN DO Houston. "This grant will enable us to expand and support the work already being conducted by CAN DO Houston and its partners. It will strengthen the collaboration, and translate successful programs and practices into policy and environmental changes."
"To reverse this epidemic, communities are going to have to rally around their kids and provide the opportunities they need to be healthy," said Risa Lavizzo-Mourey, M.D., M.B.A., president and CEO of the Robert Wood Johnson Foundation. "Through this project, CAN DO Houston and its partners are doing what it takes to make sure children lead better lives."
Healthy Kids, Healthy Communities is a $33 million national program and RWJF's largest investment to date in community-based solutions to childhood obesity. With nine Leading Sites chosen in late 2008, the program now spans 50 communities from Seattle to Puerto Rico. All are targeting improvements in local policies and their community environment—changes that research indicates could have the greatest impact on healthier eating, more active living and obesity prevention. Healthy Kids, Healthy Communities is a cornerstone of RWJF's $500 million commitment to reverse the country's childhood obesity epidemic by 2015.
The 40 other cities and regions just announced as Healthy Kids, Healthy Communities sites are:
Benton County, OR
Boone and Newton Counties, AR
Buffalo, NY
Caguas, PR
Charleston, WV
Chattanooga, TN
Cook County, GA
Cuba, NM
Denver, CO
Desoto, Marshall and Tate Counties, MS
El Paso, TX
Fitchburg, MA
Flint, MI
Grant County, NM
Greenville, SC
Hamilton County, OH
Houghton County, MI
Jackson, MS
Jacksonville, FL
Jefferson County, AL
Kane County, IL
Kansas City, MO
Kingston, NY
Knox County, TN
Lake Worth, Greenacres and Palm Springs, FL
Milledgeville, GA
Milwaukee, WI
Moore and Montgomery Counties, NC
Multnomah County/Portland, OR
Nash and Edgecombe Counties, NC
New Orleans, LA
Omaha, NE
Philadelphia, PA
Phoenix, AZ
Rancho Cucamonga, CA
Rochester, NY
San Antonio, TX
San Felipe Pueblo, NM
Spartanburg County, SC
Watsonville and Pajaro Valley, CA
All were selected because of strong vision, partnership and a commitment to make lasting change in their communities. The new program grants will continue through June 2013.
Visit www.healthykidshealthycommunities.org to learn more about these communities' work and plans.