Walking in the Light of Rev. Dr. Martin Luther King, Jr.
JGoode | 1/14/2010, 10:53 p.m.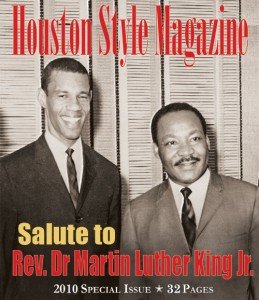 Many thought after the inauguration of the nation's first African American president that Dr. Martin Luther King, Jr.'s dream had been realized. Sadly, it is more and more evident with the passage of time that his dream is still a very long way from becoming a reality.
Dr. King once said, "Every man must decide whether he will walk in the light of creative altruism or in the darkness of destructive selfishness." Dr. Martin Luther King, Jr. walked in the light. One man who walked with him in that light is Rev. William A. Lawson.
In 1964, as the founding pastor of Wheeler Avenue Baptist Church, Rev. Lawson met Dr. King with the establishment of the Houston Chapter of the Southern Christian Leadership Conference (SCLC). The church of which Rev. Lawson is now the pastor emeritus would be the first chapter in the area. "Houston preachers did not accept him, so I was one of four preachers who did accept him," said Rev. Lawson, and with that vote of confidence he and Dr. King banned together to right the wrongs of civil injustice.
Back then in Houston was the time when slavery was behind us and separate but equal was staring blacks right in the face. A change needed to happen so that all people could one day walk as one and not see race, color, or creed. The change agent of the time was Rev. Dr. Martin Luther King, Jr. His partner in the Houston struggle was Rev. William A. Lawson. Their common denominator was God. "Many black folks of the South, maybe most black folks, are Christian, and most of them follow the philosophy of Jesus, and Jesus taught us to love God and to love man. This is what Dr. King did. He believed in having a strong faith, but he also believed in having a strong moral relationship with human beings," said Rev. Lawson about why Dr. King was such an effective leader.
It is through relationships of this kind that he built lasting partnerships and friendships. "He did not spend his time fraternizing with high powered people," said Rev. Lawson. "He was very down to earth, almost soul-like…The kind of eloquence that he had in public was not the kind of language that he spoke normally. He just talked ordinary." Recalling his memories of Dr. King, Rev. Lawson said he remembers the civil rights leader most when he was at his home, sitting on the stairs, and talking to him (Rev. Lawson), Rev. Jesse Jackson, and Andrew Young. "He was extremely courageous and he didn't respond with bitterness or anger. I never saw him angry. I did see him determined and aggressive, but I never saw him angry and I never heard him say anything bitter about anybody," said Rev. Lawson about the man he always called Doctor.
A man with such a larger-than-life presence but such a gentle soul had a vision of a world where people would not be judged by "the color of their skin but by the content of their character." His keen focus and nonviolent approach are two lessons Dr. King taught Rev. Lawson. "What he dreamed and what he envisioned, stayed with him. If there are any lessons that I learned from him they are lessons of value rather than lessons of strategy," said Rev. Lawson.
On this the 81st anniversary of his birth, remember the non-violent nature of Dr. King and his dream that all people are created equal, would know no boundaries or limits, and have infinite possibilities of dreams never deferred.