Souper Bowl of Caring kicked off this morning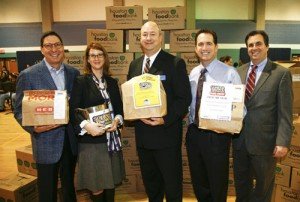 [caption id="attachment_17414" align="alignleft" width="300" caption="Scott McClelland, President of H-E-B Houston; Julie Falcon, Souper Bowl of Caring; Bill Breetz, President of Kroger Southwest; Tom Schwilke, President of Randalls Food Markets; Brian Greene, President and CEO of the Houston Food Bank"]
In this challenging economic climate when the need for food among families and individuals is rapidly growing, a team of Houston's leading organizations are once again stepping up to the plate to help feed Houston's hungry with the Souper Bowl of Caring Houston food drive. The food drive will kick off Friday, January 14 and continue through Super Bowl Sunday, February 7.
Teaming up for the food drive are leading grocers H-E-B, Kroger and Randalls Food Markets; television stations: ABC 13; Channel 11 KHOU-TV/DT; Channel 39; KFTH TeleFutura 67; KPRC Local 2; KRIV Fox 26 and KTXH My 20; and KXLN Univision 45; local radio stations KSBJ radio; Sunny 99.1 and NewsRadio 740 KTRH; the Houston Chronicle; and the Houston Texans. These organizations have partnered with non-profit organization Souper Bowl of Caring to host the community-wide food drive, set to take place leading up to Super Bowl weekend.
"For over 20 years, young people have led this national movement of compassion raising more than $60 million for soup kitchens, food banks and other charities," said Ron Goch, Executive Director of Souper Bowl of Caring. "Together, we all can make a difference through this effort. I hope everyone in the Houston community will find a way to give and serve."
The three-week food drive encourages Houstonians to purchase and donate pre-packed bags filled with non-perishable food items or make a cash donation at one of the 200 participating H-E-B, Kroger and Randalls grocery stores in the greater Houston area. Proceeds will benefit the Houston Food Bank, which serves nearly 400 hunger relief agencies in 18 southeast Texas counties.
Boy Scouts of America will join the food drive this year to serve as the official door-to-door effort. The Sam Houston Area Council will engage 12,000 Scouts and their leaders to place door hangers on area homes to inform the community about the Saturday, February 6 pick up day at their home. The culmination of the Boy Scout effort will take place at the Toyota Center with the Harlem Globetrotters serving as a final collection location on Friday, February 5 and Saturday, February 6.
The Houston Zoo will also be collecting cans of food on Saturday, January 30 and Sunday, January 31 for the Houston Food Bank. Donors will receive a free child's ticket with the purchase of an adult ticket when they donate.
In addition, more than 150 area schools and 200 houses of worship registered with Souper Bowl of Caring will be conducting food drives leading up to Super Bowl Sunday.
Last year, through the gracious efforts and support of thousands of Houston residents, Souper Bowl of Caring Houston raised more than $2.3 million in cash and cans for hungry Houstonians. This year, Souper Bowl of Caring organizers have set a goal of raising $3 million in cash and cans to meet the rising need of food assistance in the community.
Each day in southeast Texas (or the greater Houston area), 53,000 people are hungry, and 3,600 are children. Agencies served by the Houston Food Bank report an average 43 percent increase in people seeking emergency food assistance. Many have never needed this kind of help before. Half of families served by the Houston Food Bank are working poor, trying to make ends meet, but unable to earn enough to keep food on the table.
"Hunger gnaws at the spirit as well as the stomach," said Houston Food Bank President Brian Greene. "On any given day, 53,000 people of all ages, including 3,600 children, contend with hunger because they cannot afford to buy food. Meals made possible by Souper Bowl of Caring donations will help to restore hope for thousands of families and individuals who otherwise struggle to keep food on the table."
For more information on Souper Bowl of Caring Houston visit www.souperbowl.org/houston.