In February, The Documentary Channel® Dedicates Network's Sunday Primetime Lineup to Black History Month Films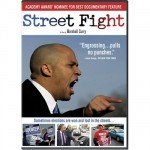 "Given the state of both the economy and the motion picture business, the world of documentary filmmaking has never been more challenging," says two-time Emmy® Award-nominated television and motion picture producer Debra Martin Chase, who worked with DOC to curate compelling and poignant films for its Sunday "Black History Month" primetime programming block. "It is particularly difficult for African-American filmmakers and I fear that as a result a whole generation will be lost. Tom Neff and The Documentary Channel share my concern and we have designed this showcase to let the visions and voices of these talented filmmakers be seen, heard and celebrated."
"We are thrilled to champion documentaries both by black filmmakers and about the black experience, and feel these are unique, important perspectives for the American public to see," adds Tom Neff, The Documentary Channel founder and chief creative officer. "DOC is committed to exposing these and other similar incredible films which are rarely seen, or have disappeared from the public eye for too long. Working with Debra and her team on curating these films was a great privilege and pleasure, and has spurred us to work together on other, new projects involving black and minority filmmakers."
Making its network premiere Sunday, Feb. 7 is "Street Fight," a 2005 Oscar® nominee written, directed and produced by Marshall Curry which chronicles the underbelly of American democracy. When Cory Booker, a 32-year-old Yale Law grad, takes on the four-term mayor of Newark, N.J., he gets an education in the politics of the streets. The city's political machine unleashes a campaign of harassment and voter intimidation, and the election unfolds amid accusations of terrorism, a Watergate-style burglary, and sexual scandal. When it becomes racially charged—a surprising twist for a battle between two African-American candidates—voters are forced to ask what it means to be "really black" in America today. In addition to Oscar nomination, "Street Fight" also won awards at the Hot Docs Canadian International, Tribeca, Silverdocs Documentary and Ashland film festivals, and was nominated for an Emmy® for outstanding continuing coverage of a news story (long form).
In its exclusive U.S. television premiere Sunday, Feb. 14, "The Visitors" is a documentary about passengers of a charter bus who leave New York City every weekend for various prisons located in remote rural towns and villages in Upstate New York, where 95 percent of the state's 70 prisons are located. Every Friday night about 800 people, mostly women and children, almost all of them African American and Latino, gather at Columbus Circle in Manhattan and board buses. Depending on the destination, the trips can take 8 or 10 hours one way. Reflecting the struggles of a unique culture living at the intersection of confinement and the free world, the story of "The Visitors" follows the coordinator of a bus -Denise- whose husband is coming home soon after 17 years of imprisonment. Produced and directed by Melis Birder, the film was an official selection to the 2009 Urbanworld, Full Frame and Istanbul International film festivals.