Have a Flag-Waving Fourth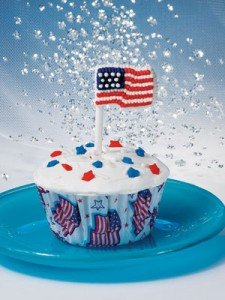 These all-American cupcakes are festively adorned in red, white and blue from top to bottom, beginning with star-studded Old Glory baking cups all the way up to the waving flag. They promise to be patriotically pleasing for all - kids and adults alike.
The cupcakes can be any flavor, made from a mix or from scratch. Ice with white buttercream to create a canvas for star-spangled decorating fun. For a surprise in every bite (if you're making yellow or white cupcakes), the Wilton Test Kitchen recommends folding red, white and blue nonpareils, sprinkle mixes or jimmies into the cupcake batter just before filling the baking cups. Use up to one-fourth cup for a two-layer cake mix. Now they're patriotic inside and out!
To make a flagpole for the candy flag topper, simply insert a lollipop stick into the cupcake and attach the flag icing decoration with stiff buttercream. Or use stars and stripes party picks or patriotic foil pix to top the cupcake instead of the candy flag. Either way, they will be a perfect tribute to the occasion.
Cupcakes can be baked, sprinkled and iced up to one day in advance; store covered at room temperature. Top with the flag just before serving.
To order star-spangled decorations, or for additional holiday, special occasion and everyday celebration ideas, visit www.wilton.com.
Flag Festivities CupcakesMakes 24 cupcakes
1 package (18.25 ounces) yellow or white cake mix
Egg, oil and water to prepare mix
1/2 cup red, white and blue nonpareils, sprinkle mixes or jimmies, divided
3 cups ready-to-use white decorator icing or buttercream icing
24 4-inch lollipop sticks
24 Patriotic Flags icing decorations
Preheat oven to 350°F. Place baking cups in standard muffin pan.
In large bowl, prepare cake mix following package instructions. Stir in up to 1/4 cup of the sprinkles; spoon into baking cups. Bake 18-20 minutes or until toothpick inserted into center or cupcake comes out clean. Cool completely.
Ice cupcakes smooth; add remaining sprinkles. Insert lollipop sticks into cupcakes; attach icing decorations with stiff icing.