The Greatest Job on Earth
JGoode | 7/1/2010, 4:44 p.m.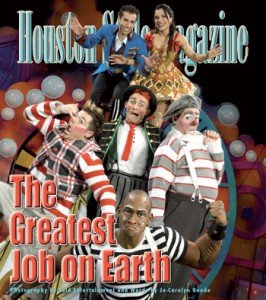 Davis, quite literally, is a clown. He cracks jokes with the best of them, but his specialty is putting smiles on the faces of children when he plays one of three character clowns known as the Heavies at the Ringling Bros. and Barnum & Bailey's Zing Zang Zoom. Known as Surly, the muscle of the group, Davis uses his pecks to be a big bully and help Mr. Gravity bring everybody down through a series of tumbles and other feats of gymnastics.
It is kind of ironic that Davis is "tripping" professionally since it was a trip that led him to the circus. Davis took the trip to his chosen profession by way of the love train. He fell in love with a young lady who had been hired as a dancer with Ringling Bros. and Barnum & Bailey. In an effort to be with his ladylove, he began working with the circus as part of the floor crew at the arena when the circus made its way to his beloved Chicago. As it turns out, Davis had found two loves, his lady and the circus. Falling in love with the circus was a good thing since the relationship with his lady didn't last but his connection to the circus did. He quickly enrolled in Clown College, graduated, and was hired by Ringling Bros. and Barnum & Bailey. What a great turn of events! But did I mention that before all this "clowning" around started Davis was a Marine who served in the first Gulf War?
Davis is kind of an oxymoron - he had been sooo serious and then he became comical. "Not so much," said Davis. "I have always been a light hearted person. And I have never let go of the child in me." Believe it or not Davis says that he uses some of the same disciplines he learned in the military with his work in the circus. He added, "I am still serving my country but in a different way."
As he tours the world in ways foreign to most Americans, Davis touches lives and gladdens hearts with laughter. "Fun is contagious!" and his performance shows why. This is the first show for Ringling Bros. and Barnum & Bailey in its 103 year history that has a base of magic and illusion proving that the greatest show on Earth became greater. Davis believes that this is one of the most interactive shows as well.
The fun begins even before the action on center stage at the pre-show that happens one and a half hours before the main attraction. All ticket holders are invited to walk through the Botanical Oasis created by Sherrariums Plantscaping where they may meet performers, animals and see live plants of various sizes and varieties as they learn some of the zing zang of the big top.
Ringling Bros. and Barnum & Bailey's Zing Zang Zoom runs July 7-25 at Reliant Stadium. Tickets range in price from $16 - $125 and may be purchased by contacting Ticketmaster at 713-629-3711 or go online at www.ticketmaster.com. Opening night tickets start at $10. Get all information about Ringling Bros. and Barnum & Bailey online at www.Ringling.com.