Girl Scouts Welcome New President and Board Chair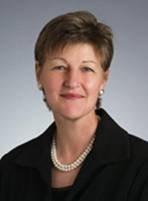 "Thanks to the guidance and stewardship of my predecessor, Dr. Mary McIntire, CEO Mary Vitek, and an exceptional team of staff, volunteers, and board members, San Jacinto Council stands today as one of the most respected and successful Councils in our nation. This is a truly exciting and pivotal time for Girl Scouts, and I am honored and humbled to serve as Council president and board chair," says DeSanctis, a long-time Girl Scout volunteer.
Together with Vitek, DeSanctis will provide strategic guidance and leadership to one of the largest Girl Scout councils in the country, with more than 72,000 girls served and 17,000 adult volunteers across 26 southeast Texas counties.
DeSanctis is not new to the Girl Scouts organization. She has been a member of the Council's board of directors since 2004. During her tenure on the board, DeSanctis has served on the Development Committee, the Strategic Planning Taskforce and the Executive Committee. She was also a member of the Invest in a Better Future Capital Campaign – Corporate Committee and was instrumental in the campaign's success. DeSanctis is a former troop leader and lifetime member of Girl Scouts, crediting Girl Scouting with providing essential leadership experience and training for her career. In addition to serving as a director, DeSanctis is involved in the many interests of her daughters, Anna and Mia.
DeSanctis is the Executive Vice President, Strategy and Development of Rosetta Resources Inc, an independent oil and gas company engaged in acquisition, exploration, development and production of natural gas properties in North America. She received a B.A. in Geology & Geological Sciences from Princeton University and a MBA from the University of California, Los Angeles.
Girl Scouts of the USA is the world's preeminent organization for girls, with a membership of more than 3.4 million girls and adults. Girl Scouting builds girls of courage, confidence, and character, who make the world a better place. Chartered by GSUSA to provide Girl Scouting locally, Girl Scouts of San Jacinto Council is one of the largest Girl Scout councils in the country serving more than 72,000 girl members and 17,000 adults in 26 southeast Texas counties. For more information call 1-800-392-4340 or visit www.gssjc.org.