Hurricane Season is Here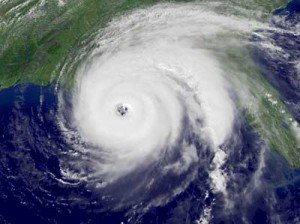 If you or your family have ever wondered how hurricanes form, or want to learn more about the history of hurricanes in the Gulf Coast, you can visit The Weather Museum and have your questions answered by a meteorologist. During the month of June, The Weather Museum will be free on Thursdays to give families the opportunities to get hurricane safety information. All museum visitors in June can register to win a hurricane kit and a weather radio donated by Midland Radio.
A hurricane is a counter-clockwise low pressure circulation with strong winds (exceeding 64 knots, 73 mph), which develops over tropical oceans in summer and generally moves west and northwest. Each year, starting in late spring and continuing into summer, the air becomes warmer and the oceans near the equator begin a warming trend. This change in temperature signals the beginning of hurricane season. At this time, warm air rises through the atmosphere and cools, condenses and forms clouds. The condensation releases latent heat and lowers the surface pressure. This can sometimes result in a circular storm, which can intensify into a hurricane (one type of tropical cyclone).
"Believe it or not we need hurricanes, states meteorologist and The Weather Museum Executive Director Jill Hasling. "The hurricane is one mechanism by which nature releases the tremendous buildup of heat in the tropics. Hurricanes also are the mechanism to bring tropical moisture into the farm lands of the central United States and often breaking droughts."
According to Hasling, this heat, combined with tropical ocean moisture, is the hurricane's energy source. The fuel source for these storms comes from the evaporation of water from the warm seas. This vapor releases latent heat in the form of cumulus clouds.
The Weather Museum encourages all families to remember that June 2010 is Hurricane Preparedness Month. Plan to visit The Weather Museum. For hurricane information, go to www.TheWeatherMuseum.org and click on the education button and then hurricane info and find a shopping list to build your own hurricane survival kit.
The Weather Museum is located in the Houston Museum District at 5104 Caroline Street and is open Monday through Saturday from 10 a.m. to 4 p.m. The Museum is closed on Sunday. Admission for self guided tours are Adults $5, Students and Seniors $3, Free for children 3 and under. Free admission on Thursdays from noon to 4 p.m.
There will also be a Hurricane Workshop sponsored by the National Weather Service, CenterPoint Energy and the City of Houston on Saturday June 19 at George R Brown Convention Center. To register for this free event go to www.TheWeatherMuseum.org and click on Hurricane Workshop under Events.
Weather Research Center is a non-profit educational and research facility with a mission to advance the science of weather and the knowledge of the weather's impact on the global community through research, prediction and education in order to inspire the next generation of scientists and engineers. Weather Research Center operates a Global Weather Forecast Center providing real-time forecasts and hindcasts of marine weather conditions for the offshore community. WRC is the Client's choice for worldwide weather when time is money. Hasling founded Weather Research Center in 1987. WRC also operates the nation's first Weather Museum which is dedicated to making the community weatherwise