Introducing Healthy Sunscreen SPF 40 For Face From Lavanila Laboratories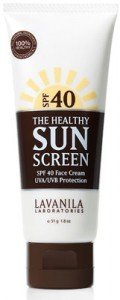 WHAT IT IS: 100% Natural Sunscreen. Wearing sunscreen prevents sunburn, cell damage, and premature signs of aging. So why use a sunscreen full of harmful ingredients? Lavanila Laboratories expands its healthy franchise with the introduction of The Healthy Sunscreen SPF 40 for Face, a highly nourishing and safe alternative to chemical-laden formulas. Developed with a new generation of natural mineral sunscreens that offer superior protection from harmful UVA/UVB rays, this multi-tasking formula is packed with youth-promoting antioxidants and immune supporting botanicals for daily protection and nourishment. Perfect for sensitive skin, this fragrance-free, ultra-sheer formula glides on smoothly with no white residue for the ultimate in natural SPF protection.
THE HEALTHY DIFFERENCE: Traditional sunscreens use harsh chemicals like PABA, oxybenzone, parabens, nanoparticles, synthetic fragrance and phthalates, which can accumulate in the bloodstream and cause irritation or allergic reactions. Lavanila's Healthy Sunscreen is 100% natural, completely free of chemicals and infused with a superior complex of skin-saving vitamins, minerals, and amino acids.
THE HEALTHY INGREDIENTS:
• Titanium Dioxide: This FDA-approved natural broad-spectrum (UVA and UVB) physical sunscreen is derived from white earth minerals that reflect, block and scatter sunlight
• Zinc Oxide: This FDA approved sunscreen is nature's broadest spectrum UVA and UVB absorber
• Shea Butter: Derived from the shea nut tree, this butter moisturizes, softens and protects dry, damaged skin
• Green Tea: A powerful antioxidant, Green Tea is known to help fight free radical damage
THE HEALTHY BENEFITS: From nourishing botanicals and healing minerals to chemical-free UV protection, Lavanila Healthy Sunscreen offers an array of skin-healthy benefits:
• Protection against harmful UVA & UVB rays that can cause sunburn, cell damage, dryness, roughness, and premature signs of age such as fine lines
• Youth-promoting antioxidants, botanicals and amino acids that hydrate and replenish delicate skin
• Non-coated minerals that maximize healing and provide antibacterial, anti-microbial protection
• Non-comedogenic
• Clinically tested
• Biodegradable
• No animal testing
• NO: Oxybenzone, Nanoparticles, Fragrance, Parabens, PABA or Phthalates
WHAT IT COSTS: $28.00, 1.8oz.
WHERE TO FIND IT: Sephora, sephora.com or lavanila.com