Judge Michael Schneider He Wants To Continue His Work Helping Children and Families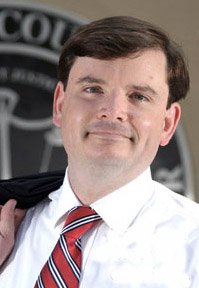 A native Texan, Judge Schneider is a Texas A&M grad and a South Texas Law grad. He gained experience as a prosecutor from 1999 to 2006 for the Children's Protective Division of the Harris County District Attorney's Office. Schneider has been on the bench since 2006 when Governor Rick Perry appointed him after Schneider won the Republican primary.
When I interviewed him, I discovered two very pleasant details. One the one hand, he was very passionate about his work with kids and families. We talked about his work with the Children's Assessment Center, an award winning center that provides a variety of legal and psychological services to sexually abused children. He's very proud of his work with the facility as a judge and as the former general counsel. He should be. I've toured CAC, and it's a haven for children and families to get the services they need.
On the other hand, I found him to be a very pleasant person to talk to about his court and the pressing (and sometimes high-profile) issues he faces. He is the type of judge who I think can discuss very complex legal issues with everyday people AND who has the personality and demeanor to manage a court room so that both sides get a fair hearing.
Now, don't get me wrong. While I am not saying that other judges can't be the same way, he's the first one I've talked to who really conveyed these things. That's a very good sign in my book.
Aside from the 'feel good' opinion I just expressed about Judge Schneider, there's more to him. He believes "the court's goal is to keep kids out of the adult system." That means provide them with right services, programs, etc. that resolves the conflict. That means things like deciding whether a mother with an abusive boyfriend should have custody of her children That also means determining where three brothers and sisters should live if Child Protective Services have permanently removed them from their home.
Others agree Judge Schneider should be re-elected. So far, they include a majority of lawyers who voted in the Houston Bar Association recent poll. They also include several other organizations that soon will make public their support. If his 83 percent approval rating from the Houston lawyers is any indication, there will be a long list of endorsements prior to November's election.
Hold up. So what about Keith Branch, Judge Schneider's Democratic opponent? Does he have anything to say about Judge Schneider's background and/or qualifications to continue as judge? I would have like to asked him that, but Mr. Branch never responded to repeated requests for an interview. In reviewing Mr. Branch's resume posted on his campaign website, I don't think he has ever tried or defended a family law that would have appeared in this type of court. His background appears to be as a director with the Harris County Juvenile Probation Department, an adjunct professor at Prairie View University, the University of Houston and Texas Southern University Law, and as a legal consultant/trainer. While his background would be very helpful as a judge, I think having experience actually trying cases is crucial. Judge Schneider's background includes time prosecuting these kinds of cases in this type of court.
Judge Schneider's one-word description for himself is "energy." He's got the energy to manage a court docket with hundreds of cases per year, while working to make the court more secure and efficient. He also manages to speak with state lawmakers about stronger laws to protect abuse victims and families. One needs a lot of energy to manage all of that. Clearly, he's got that, as well as the ability to continuing serving as judge of this court. He's got my vote.