Seeing Stars at the Miss Black Texas USA Pageant
JGoode | 6/3/2010, 10:36 p.m.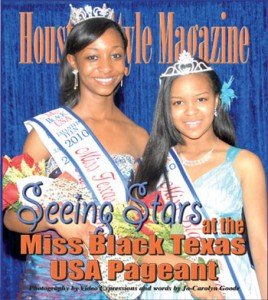 "I was shocked!" was Morgan Ned's, immediate reaction after winning the title of Miss Black Texas USA Talented Teen. "All the contestants were so talented." The former Miss Black Cypress USA Talented Teen reigned supremely at the Annual Miss Black Texas USA Talented Teen and Pre-Teen Pageant that was held over Memorial Day weekend at the Hilton Houston Southwest Hotel.
The thirteen-year-old incoming freshman at Cy-Woods High School entered the competition after watching her older sister, Courtney Ned, win the title four years ago. Besides the crown, Morgan also won the fitness and talent competitions. "I am just so excited to begin implementing my platform." During her reign Morgan wants to raise the appreciation level for education among her peers. Some in this generation of students have been categorized as nonchalant and lazy in the classroom, a far cry from what Morgan Ned is. This honor student has just completed eighth grade at Spillman Middle School with a perfect attendance record at both her elementary and middle schools. She has already started supporting the scholastic studies of students who plan to attend college by raising funds as part of the requirement for a special Director's Award, a community service involvement venture of the pageant. I think saying that Morgan takes education seriously is an understatement. She hopes to demonstrate her passion for education by being a shinning example of a scholar and by tutoring and mentoring students.
Morgan is going to need her organizational skills as she balances her normal life with that of a beauty queen in an orderly manner. In addition to the many activities in which she is already involved, she has to prepare for competition on the national level. In just 2 months she will be traveling to Washington, D.C. anticipating another title, that of Miss Black USA Talented Teen.
Morgan was not the only teen whose tiara dreams came true. The Miss Black Texas USA Organization, the official preliminary state pageant of the Miss Black USA Organization, crowned twelve-year-old Bridget Reagins as its first pre-teen queen. The newly crowned Miss Black Texas USA Pre-Teen also won the interview and talent competitions and a special Director's Award for leadership. Bridget has dedicated herself to serving her community by supporting the Houston Food Bank. During her reign she plans to continue her work with the food bank and encourage others to jump on board. Bridget also wants to bring more attention to gun violence by children and teens. After the tragic death of a friend brought on by gun violence, she became intimately involved in spotlighting the senseless nature of gun violence.
Bridget is an incoming eighth grader at St. Thomas More Parish School. "My heart dropped when I heard my name called," she said. She had better pick it up and get moving. Both Bridget and Morgan have busy itineraries ahead of them as they represent teens and tweens across Texas.
For more information about how to apply for any of the pageants sponsored by the Miss Black Texas USA Organization or to request any of the queens to make an appearance at your next event log on to www.missblacktexasusa.org.