Port Commission Considers Nearly $2 Million for Maintenance Dredging of Houston Ship Channel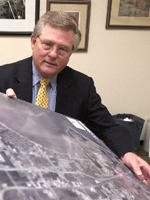 FINANCE & ADMINISTRATION MATTERS (Agenda I1) Commissioners will consider authorizing a $410,000 contract with Xirrus Inc. for wireless network hardware, software, hardware support and software support for Barbours Cut Container Terminal for five years. The existing LXE outdoor wireless network infrastructure, supporting the yard operations and Remote Data Terminals (RDT) at Barbours Cut, has reached the end of its useful life. Additionally, if approved by the commission, the new infrastructure from Xirrus would be used to support cameras that are mounted on wharf cranes. The Xirrus technology would also offer 10 times more capacity in the air and 100 percent wired/wireless redundancy.
GENERAL MATTERS (Agenda K1) Commissioners will consider issuing a new series of bonds in a maximum principal amount of $455 million to finance project costs for the purposes approved by Harris County voters in 2007, refund the port authority's outstanding notes, refunds and defease the port authority's outstanding unlimited tax refunding bonds, series 2008A (AMT) and pay the costs of issuance and refunding.
(Agenda P9 and P10) Commissioners will consider authorizing a $600,000 increase to the capital budget and payment of up to that amount to the U.S. Army Corps of Engineers for dredging the port authority's Sims Bayou facility. Commissioners will also consider authorizing payment of up to $1.375 million to the U.S. Army Corps of Engineers for dredging PHA's Woodhouse and the grain elevator facilities. A federal project, currently under way to dredge the Houston Ship Channel adjacent to the Turning Basin facilities, will be used as a vehicle to accomplish the dredging for both these facilities, and the current federal contract will be modified to add this needed action.
(Agenda P11) Commissioners will consider authorizing an increase of $1.25 million to the capital budget and authorize payment to the U.S. Army Corps of Engineers for Fiscal Year 2010 American Recovery and Reinvestment Act and Construction General (CG) cost share for the additional improvement of Placement Areas 14 and 15.
AWARDS, AMENDMENTS & CHANGE ORDERS MATTERS (Agenda L4) Commissioners will consider issuing a $872,013 contract to Bearcom, Inc. to purchase land mobile radio equipment (handhelds, mobile radios, base station radios and accessories). (Agenda P2) Commissioners will consider amending a $68,000 professional services contract to Texas Transportation Institute to provide data analysis and evaluate the economic impacts of effects of lack of dredging the Houston Ship Channel. The Port of Houston Authority owns and operates the public facilities located along the Port of Houston, the 25-mile-long complex of diversified public and private facilities designed for handling general cargo, containers, grain and other dry bulk materials, project and heavy lift cargo, and other types of cargo. Each year, there are more than 7,700 vessel calls at the port, which ranks first in the U.S. in foreign waterborne tonnage and second in overall total tonnage.
The port authority plays a vital role in ensuring navigational safety along the Houston Ship Channel, which has been instrumental in Houston's development as a center of international trade. The Barbours Cut Container Terminal and Central Maintenance Facility are the first of any U.S. port facilities to develop and implement an innovative Environmental Management System that meets the rigorous standards of ISO 14001. The second recertification of those facilities in 2009 included an extension for the state-of-the-art Bayport Container Terminal.
The port authority is the first port authority in the world to receive ISO 28000:2007 certification for its port police and the perimeter security operations at both the Barbours Cut and Bayport Terminals. Additionally, the port is an approved delivery point for Coffee "C" futures contracts traded on the New York Board of Trade's Coffee, Sugar & Cocoa Exchange. For more information, please visit www.portofhouston.com