H-E-B 15 Million Mile Commuter Wins One Year of Free Groceries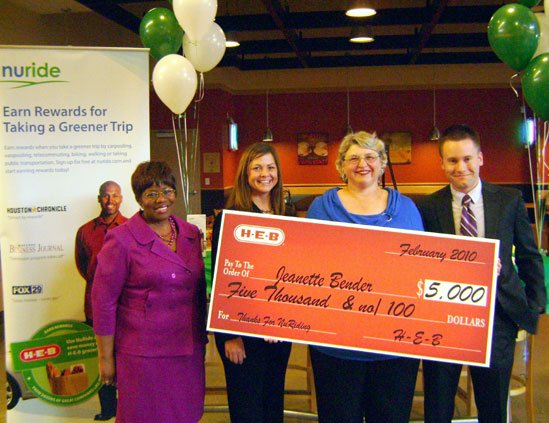 [caption id="attachment_19047" align="alignleft" width="549" caption="Pictured L to R are: Veronica Baxter-Lamb, transportation program coordinator with the Houston-Galveston Area Council; Erika Dybala with NuRide; Jeanette Bender and Nicholas Williams, senior air quality/commute solutions planner with the Houston-Galveston Area Council."]
H-E-B, NuRide and the Houston-Galveston Area Council presented Needville resident Jeanette Bender with a year of free H-E-B groceries for participating in the H-E-B 15 Million Mile Commuter Challenge, a program which asked Houston employers and commuters to reduce the number of vehicles on roadways by carpooling, vanpooling, biking, walking, telecommuting and riding METRO.
By taking alternative commutes, participants saved close to $5 million in commuting costs while earning more than $340,000 in valuable rewards from H-E-B, Houston Museum of Natural Science, Texas Renaissance Festival, Kolache Factory, Jamba Juice, Theatre Under the Stars, Wings N' More, Pappas Restaurants, Sun & Ski Sports, Chipotle and dozens of other sponsors.
Jeanette, an associate with Allstate Insurance Company, was randomly selected from more than 13,000 commuters. A member since September 2005, she uses NuRide to earn rewards by carpooling with three other NuRide members.