BBVA Compass Tour De Houston Cruises Through The Bayou City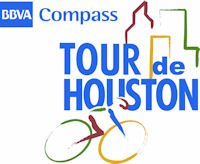 "I'm excited to host this annual Houston tradition," said Mayor Annise Parker. "Thanks to BBVA Compass for their generous commitment, Houstonians will continue to enjoy the city's premier recreational biking event while supporting our parks system."
"We are thrilled to be the title sponsor of one of the city and state's signature outdoor events. At BBVA Compass we are committed to helping maintain healthy communities through our corporate social responsibility initiatives and this event certainly is worthy of our support. We look forward to the event and to record-breaking attendance in 2010," said Manolo Sánchez, President and CEO, BBVA Compass.
"This is not only a fun and exciting event, but also encourages Houstonians to embrace environmentally-friendly transportation and a healthy lifestyle while showing riders the unique attributes of our city," said Senator Rodney Ellis.
With three distance options, the BBVA Compass Tour de Houston is the perfect outdoor event for all cyclist levels, from the leisure rider to cycling competitors, and is a recommended BP MS 150 training ride. The distance options include a 70-mile route at 7 a.m., a 40-mile route at 7:30 a.m. and a 20-mile route at 8 a.m. Starting and ending at City Hall, the 2010 event is expected to draw more than 5,000 participants. Along the route, riders will find fully stocked rest stops, bicycle mechanics, and police and medical support, and will culminate with a post-ride party for participants and volunteers.
BBVA Compass Tour de Houston registration details can be found at www.bbvacompasstourdehouston.com. Advance registration is $25 per adult rider and $15 each for kids 12 and under, and ends March 18 at 11:59 p.m. On-site registration will be available the day of the event at City Hall and costs $35 per rider. Packet pick-up locations and schedules for pre-registered riders can be found on the event Web site.
Sponsors for the BBVA Compass Tour de Houston include: Title Sponsor, BBVA Compass; Michelob Ultra; Sun & Ski Sports; City of Houston; Sheriff Adrian Garcia; Local 2, BPMS 150; Cumulus Radio Houston's 103.7 FM; KSBJ Radio; Watermill Express; NX Media; Houston Press; Houston Avocado Company; and, the City of Houston. Funds raised by the BBVA Compass Tour de Houston will benefit the Houston Parks and Recreation Department through the Houston Parks Board.
For more information call 832.393.0868 or visit the BBVA Compass Tour de Houston Web site at
www.bbvacompasstourdehouston.com or www.houstonspecialevents.org.