Houston Rockets and Comcast Join the Princeton Review to Present the Houston Rockets SAT Training Camp - Sunday, March 28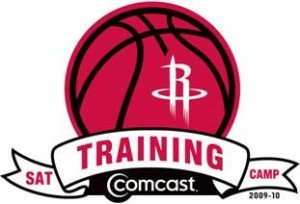 Scheduled to speak at the event are Rockets forward Chuck Hayes (University of Kentucky), Rockets Director of Player Development Shawn Respert (Michigan State University) and Rockets Radio Announcer Craig Ackerman (Sam Houston State University). The speakers will address their overall college experiences and taking the SAT, as well as take part in a question and answer segment.
The SAT Training Camp is an extension of the Rockets and Comcast grassroots basketball initiative, which not only targets student athletes, but all students that will soon be applying to college. The Training Camp will provide a full menu of information to help guide parents and students through the college application process, including admissions, financial aid, SAT prep classes, test dates and much more. The Princeton Review will be on hand to provide different strategies and test taking tips.
The seminar will include representatives from local universities including the University of Phoenix, University of Houston, Rice University, Texas Southern University, Texas Tech University, Baylor University, Sam Houston State University, Texas State University and the Princeton Review. The universities will be available to answer questions, provide information on college admissions and financial aid.
A limited number of spaces for students are still available. Those interested should log on to Rockets.com to download the registration form. Admission to the Training Camp is free and each student participating will receive two free tickets for an upcoming Rockets game. All participating student are eligible to win a Princeton Review and Houston Rockets scholarship. Twenty scholarships will be given and winners will be announced at the Training Camp.