"Celebrity Fight Night XVI", A Night to Remember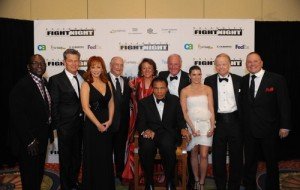 While many Houstonians were dodging frigid and rainy weather, I had the opportunity to partake in one of the most memorable events this weekend. The JW Marriott Camelback Resort and Spa was the location for the 16th annual "Celebrity Fight Night" Gala to raise money and awareness of Parkinson Disease. This event, since its inception honors "The Greatest", Muhammad Ali with a live musical montage by many of today's stars, silent auction, and night filled with star studded celebrities and professional athletes.
This power-packed night of excitement not only leaves our audience with unforgettable memories each year, but more importantly, provides significant dollars for charities that help many people in need. Throughout Celebrity Fight Night's sixteen year history nearly $60 million has been raised with the Muhammad Ali Parkinson Center at Barrow Neurological Institute as the primary beneficiary. Numerous other charities have benefited and countless lives have been changed thanks to the tremendous generosity of our supporters.
I had the honor of interviewing several celebrities and philanthropists this weekend with my first interview of Celebrity Fight Night Foundation Chairman, Mr. Jimmy Walker. He is pleased that this event has become an annual staple in the city of Phoenix. He stated that this event is wonderful because it couldn't be done without the credit of so many people involved such as: the celebrity guests, and the community. He is also thrilled that Reba Mc McIntyre was able to take time off from her touring schedule to perform in front of a sold out crowd. Celebrity Fight Night Foundation Board Member, Harvey Mackay, and current New York Times Best seller is very close to the Ali family and travels with him. He also mentioned that the new Muhammad Ali Parkinson Center at Barrow Neurological Institute provides diagnostic and treatment services, research, and education for those whose lives have been touched by Parkinson's disease. In addition to clinical services, the Center conducts extensive research in new medical and surgical treatments for Parkinson's disease and related disorders.
Randy Jackson, Grammy Award winning producer and American Idol Judge has been a Muhammad Ali fanatic since childhood. He was simply ecstatic that he would be introducing Muhammad Ali at tonight's gala. "It is truly an honor to introduce 'The Greatest of All Time" to the crowd tonight. "Ali provided hope and admiration to a young black boy growing up in the south". America's favorite funny man Chris Tucker attended the star studded event by providing comedy relief at Friday's pre-reception and Saturday's gala. Tucker mentioned, "I am loyal supporter of the foundation because Muhammad Ali is a great person, and I have always been a fan".
Fellow Houstonian, and current Arizona Diamondback's center fielder Christopher Brandon Young, supported the cause because he wants to let the Phoenix community know that there are so many things that he feels strongly about, and giving back is one of them. Brian Grant, a retired NBA All Star and former Phoenix Suns power-forward supports the Foundation personally because he is a huge fan of Muhammad Ali, and because he has recently been diagnosed with the early onset Parkinson's Disease. Arizona Cardinals running backs Tim Hightower and Beanie Wells attended the event for the first time to show respect to Muhammad Ali, and the cause.