Bring A Young Person To The Houston Symphony On April 8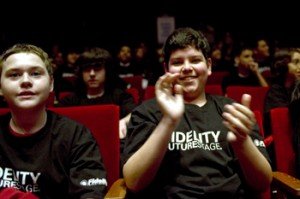 The concert features Tchaikovsky's Romeo and Juliet Fantasy Overture; Barber's Violin Concerto; and Shostakovich's Symphony No. 5. Pre-concert activities for students and adults begin at 7:00pm in Jones Hall:
- Learn the basics of conducting playing Wii Music
- Go for a backstage tour of Jones Hall
- Visit the instrument zoo to discover new talents
- Get creative at the arts and crafts station
- Watch performances by Houston's Fidelity FutureStage students
Thursday, April 8, 8 PM
Shostakovich's Fifth Symphony
Fidelity Investments Classical Series
TOTAL Gold Classics
Jones Hall
615 Louisiana St.
Houston, TX 77002
Christian Arming, conductor
James Ehnes, violin
Tchaikovsky: Romeo and Juliet Fantasy Overture
Barber: Violin Concerto
Shostakovich: Symphony No. 5
Tickets from $25
* One free ticket for students is available for each full-price ticket purchased. To purchase tickets or if you have already purchased a ticket and want the additional student ticket, call Houston Symphony Customer Service at 713-224-7575.