Glassell Benefit Raised Over $200,000; Lily Cox-Richard Awarded $10,000 Long Prize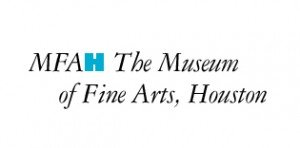 Over 170 underwriters arrived for cocktails and dinner catered by Swift + Company under tents in the Hugh Roy Cullen Sculpture Garden, and the crowd later swelled to about 300 as additional guests arrived for the after-party portion of the evening, consisting of dessert and the silent auction. The silent-auction featured 73 artworks by David Aylsworth, Natasha Bowdoin, Arielle Masson, Karen Bradshaw, Joe Havel, and Patrick Palmer, among others.
The evening was capped by Dr. Peter C. Marzio announcing the winner of the $10,000 Long Prize, inaugurated in 2008 to be given each year to an outstanding second-year Core fellow. Lily Cox-Richard is the 2010 winner. Cox-Richard received her MFA from Virginia Commonwealth University, Richmond, VA in 2008 and her BFA from California College of the Arts, San Francisco, CA in 2001. Her work has been shown in solo and group exhibitions at Terminal, Richmond, VA; Civilian Art Projects, Washington, DC; the Soap Factory, Minneapolis, MN; Kompact Living Space, Berlin, Germany; and Area: Lugar de Proyectos, Caguas, Puerto Rico. She was awarded graduate fellowships from VCU in 2006 and 2007 and from the Virginia Museum of Fine Arts in 2006. Lily is a 2007 Jacob K. Javits Commended Scholar.
Filling out the roster of art and society for the evening, guests included chairmen Vallette and Russell Windham; major underwriters Leslie and Brad Bucher; Glassell School director Joe Havel; MFAH chairman of the board Cornelia Long and her husband, Meredith, a local American gallerist and founder of the Long Prize; MFAH director Peter C. Marzio and his wife, Frances, MFAH antiquities curator; Alfred C. Glassell III; Marli Andrade; Clare Glassell; Kelli and Eddy Blanton; Leslie and Jack Blanton; Phoebe and Bobby Tudor; Joanna and Rusty Wortham; Courtney and Christopher Sarofim; Martha Long; Aliyya and Herman Stude; Judy and Scott Nyquist; Leigh and Reggie Smith; and Betty and Steve Newton.
The Glassell School of ArtThe Glassell School of Art is the teaching wing of the Museum of Fine Arts, Houston. Established in 1927, it was re-named in honor of Alfred C. Glassell, Jr., in 1979. The school has a reputation for outstanding training in the fine arts, and offers the nationally acclaimed Core Residency Program for postgraduate study as well as a wide variety of programs and classes for adults and children through its Studio School and Junior School. The Glassell Community Outreach Program serves more than 5,500 individuals, including hospitalized children, and hearing and visually impaired people.
The Glassell School of Art is located at 5101 Montrose Boulevard, and is open Monday through Thursday, 9 a.m. – 10 p.m., and Friday through Sunday, 9 a.m. – 5 p.m. Admission is free. For more information, the public should call 713-639-7500 or visit www.mfah.org