Do You Have A Health Home? Gateway to Care Issues Community Challenge
Tonja Ward | 5/13/2010, 6:53 p.m.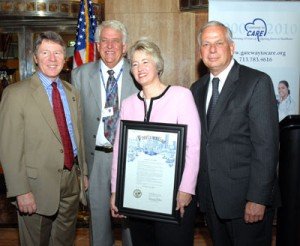 [caption id="attachment_20789" align="alignleft" width="300" caption="Judge Ed Emmett, Ron Cookston, Mayor Annise Parker, Congressman Gene Green"]
Houston has been at the center of attention as a city with one of the highest number of uninsured and marginally insured residents. Just last fall Dr. Mehmet Oz hosted a free-clinic designed to help attendees identify a health home. But a little known fact is that Gateway to Health has connected 89,000 Houstonians with Health Homes and is responsible for bringing $77 million in healthcare resources to the region over the last decade.
In recognition of their work, Mayor Annise Parker and Texas State Representative Gene Green recognized Gateway to Care for its role in addressing the health-access crisis in Houston-Harris County. Mayor Parker presented Gateway to Care with a proclamation designating May 10-14, 2010 as GATEWWAY TO CARE WEEK.
"The most precious commodity that any of us have is our health. Unfortunately most of us don't realize that until we lose it," said Dr. Cookston. "The challenge is it's time for each of us to find that place in our neighborhood where we can have consistent health care," he stated. Being uninsured is hazardous to your health and having a large uninsured population like we do in Houston is hazardous to our community.
In her remarks the Mayor sited that as one of the largest cities in one of the richest nations in the world, we should not have the number of uninsured that we do and moreover we all should have access to affordable and quality healthcare. The Gateway to Care solution is all about bringing the health care community together and increasing access to affordable healthcare. Rep. Green, who has been working on health access for several years, added that one of the goals is to get increased federal funding for Houston for more centers so that more people throughout Harris County can find medical homes.
If you do not have a health home you can call Gateway at 713.783.4616 or visit their website www.gatewaytocare.org and a navigator will help you find the help you need. This was the case for Madeline Perez who was losing her vision when a Gateway Navigator helped her get connected to an ophthalmologist. She received surgery on both eyes and now has 20/20 vision. According to Madeline, "I have my life back!"
"Coverage is not care. All the coverage in the world isn't helpful if you don't use it, " said Dr. Cookston. All the more reason why continuing the work of Gateway is important so that as thousands become eligible for health care under the new Health Care bill they will know how to access it.