Dr. Marcus Cosby on His Spiritual Journey, How God Works, and Finding Moments That Matter!
10/14/2011, 5:56 p.m.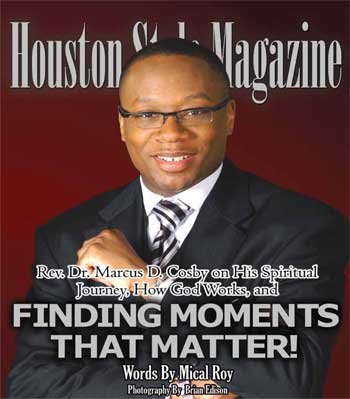 Journeying toward 3rd Ward, thoughts raced through my head, as they often do; would the interview run smooth, am I as prepared as I need to be…etc. Once I entered the prestigious Wheeler Avenue campus, I felt the invitation.
I headed upstairs to the Executive suites, and sat just outside Pastor, Dr. Marcus Cosby's office. Sitting there, I could hear laughter barreling through his office door. Here I was, set to interview this pillar of the community; A man of substance, spiritual fortitude, and stability…and although the laughter humored me, I was unnerved to say the least. Before I knew it, several people were exiting, and I was, alas, walking in. We entered his office, where he offered me a bottle of water. I bragged to him about how much my parents love being active members at Wheeler, and we dove right into our discussion.
Where were you born and raised?
Born and raised in Chicago, Illinois; my parents divorced when I was very young. I was raised by mother in single parent home that was heavily influenced by church. I am the 3rd of 3 children, and spoiled brat by the Church and my siblings all my life.
As a Pastor, Board Member, Family Man, and so much more, is there anything specific which you can say better prepares you to meet the needs of the community?
Part of my life has been engrossed with people; I found that being a part of people's lives, made me concerned about what was going on in people's lives. I really want to know how people can be better, how we can put a cessation to their hurts. My mother has always been very concerned about the "aged". I grew up having to go to old people's houses; I kind of grew up in that culture in that environment, so caring and loving others seems to come quite naturally to me.
When you're not fulfilling your pastoral duties, what does a laid back, more relaxed day look like for Dr. Marcus Cosby?
I am a television-a-holic. I love sitcoms, and laughter…that which evokes laughter. Many of us have a wonderfully serious life, but at the same time we also have levity and those that take themselves seriously miss out. I also like to ride horses. I love to travel. In terms of my children, we have small monumental moments when we bond, like playing and laughing on the drive to school or after school. FIND MOMENTS THAT MATTER!!!
How did you initially find yourself in your current role(s), and was it easy to make the transition?
When I was in seminary, I used to preach the youth day for Olivette Fellowship Baptist Church in Memphis, TN, pastured by K.T. Whalum. Whalum and Reverend Lawson were best friends. When Lawson asked Whalum did he know anyone that'd be a great fit to take over the church, the first name out of Whalum's mouth was ME. I came to preach at Wheeler Ave., stayed the whole day; several weeks later I came back, and have been here ever since. I didn't want to be a pastor; I wanted to be an Assistant Pastor, which would allow me the ability to evangelize nationally. Soon as I got here, Pastor Lawson assigned me to start an evening service "Sunday Night Live". Lawson said he wanted me to preach every week. I did that for 6 and half years, and then the transition took place. Those years of preaching Saturday Night Live prepared me for taking over. God gave me the assistant role, and God used Pastor Lawson to show me over the 6 year span, that in fact, I could be of greater use. Here I stand today as the Pastor of Wheeler Avenue Baptist Church; God is more than good!