A Recap: Houston's 2nd Annual Fashion Weekend
10/24/2011, 12:40 p.m.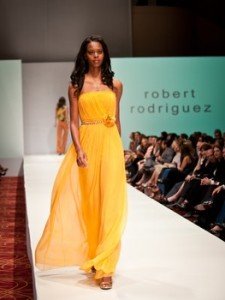 Houston Fashion Week sponsored by Audi ended with a bang with a hometown favorite presentation, a walking timeline on intricate designs from socialite Becca Carson-Thrash, and the influx of established fashion mavens. This 2nd annual occasion of style invited a fashionably vogue audience to enjoy the Spring 2012 collections of: Cesar Galindo, Robert Rodriguez, and Bibhu Mohaparta.
Rojo by Cesar Galindo- Houston's hometown designer, and creative director for Gwen Stefani's L.A.M.B wowed the Wortham Theatre with his entire collection of red gowns. His rouse for red was used as inspiration to raise awareness for World AIDS Day. Each garment was available for purchase after his runway debut where the proceeds would benefit AIDShelp.org
Bibhu Mohapatra Mohapatra arrived into the big apple from his native India; initially to acquire a Masters degree in Economics. He always had a knack for design; which resultantly led to him becoming a protégé of the international fashion house, Halston, while attending FIT. His Spring 2012 collection did not disappoint (exclusively sold at Neiman Marcus) which consisted of: jeweled embellishments, vibrant color, and open back crepe gowns and dresses that draped a woman's silhouette. (the tangerine harem pants were simply jaw-dropping) The fashion designer enjoys Houston for the fashion scene and its esteemed culture. Per Mohapatra, "I love color. The vibrancy stems from my heritage".
Robert Rodriguez- A New York native who idolized Christian Dior as a child, had destiny fulfilled by working for the famed designer instead of becoming an architect. The Cuban designer is a connoisseur of precise tailoring, and craftsmanship. Rodriguez another FIT graduate, brought forth his Spring 2012 Resort collection to captivate audiences with effervescent hues, and distinct color blocking on both dresses and blouses (exclusively sold at Saks, Nordstrom, and Neiman Marcus). Per Rodriguez, "I make my clothes for real women no matter their size, age or shape. I want the Rodriguez woman to feel comfortable, strong, confident, and sexy in every garment".
The highly anticipated HFW finale came from socialite/philanthropist Becca Carson-Thrash. A salute like no other was granted with her distinct haute couture collection. Pieces from Chado Ralph Rucci, Christian Dior, and the late Alexander Mc Queen graced the runway where each gown created a fond memory of her philanthropic efforts, and distinct appreciation of the arts.