Chick-fil-A restaurants become rallying points for supporters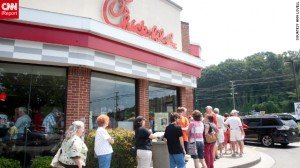 Style News Wire
Throngs of people weighed in on the Chick-fil-A debate at stores across the United States on Wednesday, buying chicken sandwiches to show their support for the restaurant chain and its president's opposition to same-sex marriage.
Former Arkansas Gov. Mike Huckabee dubbed it "Chick-fil-A Appreciation Day."
He called for a vocal response to the backlash against the fast food restaurants and their president.
Eat Mor Chikin: Chick-fil-A's stance on same-sex marriage faces test
"We are very much supportive of the family -- the biblical definition of the family unit," Cathy said. "We are a family-owned business, a family-led business, and we are married to our first wives. We give God thanks for that."
On a Facebook page Huckabee created announcing the event, more than 620,000 people said they would participate.
"The goal is simple: Let's affirm a business that operates on Christian principles and whose executives are willing to take a stand for the Godly values we espouse by simply showing up and eating at Chick Fil-A on Wednesday, August 1," wrote Huckabee, a former pastor.
Lines snaked around a Chick-fil-A in Dallas, CNN affiliate WFAA reported. Patrons packed a Chick-fil-A in Smyrna, Georgia. A food court with a Chick-fil-A was flooded in Laurel, Mississippi.
On Facebook, fans posted photos of themselves holding bags emblazoned with the restaurant chain's bright red logo.
Edwin Guzman told CNN's iReport that he wanted about 30 minutes for his lunch at a "crazy packed" Chick-fil-A in Clarksville, Tennessee.
"It's really hard to find people or leaders that stand for something good and stay firm," he said of the restaurant chain.
In Barboursville, West Virginia, Brett Walker said, "the scene at Chick-fil-A seemed like a massive silent protest."
Walker told iReport he chose to eat at the restaurant Wednesday "in support of free speech" and waited 40 minutes to receive his order.
Have you seen demonstrations at restaurants in your area?
A police officer directed traffic as cars jammed the area, and employees walked car to car in the drive-thru line to take orders, he said.
Roger Cates told iReport he had lunch at Chick-fil-A in Owensboro, Kentucky, and planned to return with his family for dinner. Political leaders who have criticized the chain, like the mayors of Boston and Chicago, are hypocritical, he said.
"I think it is ironic that the so-called forces of tolerance and inclusion are calling for the exclusion of Chick-fil-A from cities simply because of the beliefs of their chairman. ... People that disagree with me have a right to their opinion, and I have a right to mine," he said.
In Oklahoma, Tim Tibbles told iReport that many braved hot weather to show their support for the restaurant.
"It's 109 degrees here, and people have been standing outside for well over an hour. Nobody is complaining or talking about the controversy. They're showing quiet support," he said.
Andy Kives drove 45 minutes each way Wednesday morning to get breakfast for his employees.