Undocumented immigrants line up for relief from deportation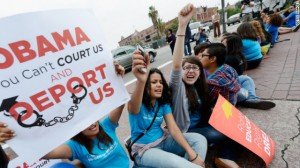 [caption id="attachment_67953" align="alignnone" width="300" caption="Immigrants' high hopes on Obama policy."]
By the CNN Wire Staff
Style News Wire
Long lines formed at help centers and lawyers' office across America Wednesday as thousands of young, undocumented immigrants began applying for relief from deportation.
They took advantage of one of the biggest immigration policy changes in years. An executive order by President Barack Obama allows those who entered the country illegally as children to remain and work without fear of deportation for at least two years.
A crowd formed at Chicago's Navy Pier Wednesday to get help from immigration lawyers and fill out forms.
"I was able to learn the customs and traditions, and I am used to living the life here," Nayeli Manzano, 16, told CNN affiliate WLS-TV.
She arrived in the United States as a child from Mexico and said she is very much American.
"I feel I am a citizen," she said. "The only thing that is stopping me is a little piece of paper."
Tuesday, at a Latino community center in New York, Maria, a young Chilean, leaped from her seat.
"I've found the form!" she screamed.
She was with a number of other undocumented immigrants meeting there to get legal advice in anticipation of the release of the form, which authorities surprisingly posted a day before they had said they would.
The form, titled "Consideration of Deferred Action for Childhood Arrivals," was dated August 15, 2012, and bore the expiration date of February 28, 2013.
Alejandro Mayorkas , the director of U.S. Citizenship and Immigration Services, said applicants who have not committed major crimes can apply without fear of deportation.
The forms were made available two months after Homeland Security Secretary Janet Napolitano said that people who arrived in the United States as children may request consideration of deferred action for a period of two years subject to renewal, and upon approval would be eligible for work authorization.
As many as 1.7 million youths may qualify for the program, according to the Pew Hispanic Center, a project of the Pew Research Center.
Dubbed Consideration of Deferred Action for Childhood Arrivals, the deferral program was created in June under an executive order signed by President Barack Obama.
However, there is no guarantee of its future if Obama is not re-elected. Republican Mitt Romney would then have the power to revoke the order.
When he signed the order, Obama said the changes will make immigration policy "more fair, more efficient and more just."
The shift on the politically volatile issue of immigration policy elicited praise from Latino leaders, while Republicans reacted with outrage, saying the move amounts to amnesty -- a negative buzzword among conservatives -- and usurps congressional authority.
"This is not amnesty," Obama said. "This is not immunity. This is not a path to citizenship. It's not a permanent fix. This is a temporary stopgap measure."
Mayorkas reiterated Tuesday that deferred action does not provide lawful status or a shortcut to permanent residency or citizenship.