Isaac poised for Gulf landfall on Katrina anniversary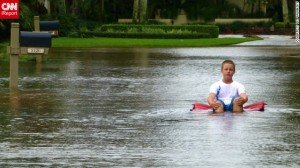 Style News Wire
New Orleans and much of the Gulf Coast faced the anniversary of devastating Hurricane Katrina by hunkering down for new storm amid "a high level of anxiety," as the Crescent City's mayor put it Monday.
Forecasters project Tropical Storm Isaac will reach hurricane strength before hitting the northern Gulf Coast early Wednesday, seven years to the day after Katrina slammed ashore near the Louisiana-Mississippi state line. Residents of low-lying coastal areas from the Florida Panhandle to southeastern Louisiana were ordered to evacuate ahead of storm surges and heavy rain, while New Orleans Mayor Mitch Landrieu acknowledged his own jitters due to the coincidence.
But Isaac is expected to be much weaker than Katrina, a Category 3 hurricane that killed nearly 1,800 people. As of Monday afternoon, the National Hurricane Center projected Isaac would come ashore near New Orleans as a strong Category 1 storm, with top winds around 90 mph.
Preparing for Isaac, state by state
The city could start to feel tropical storm force winds by midnight Monday, and while Isaac may veer off its currently projected course, "It seems to be settling into a pathway and a speed that is becoming predictable," Landrieu said.
Most of Katrina's toll came when the protective levees around New Orleans failed, flooding the city. But Landrieu said the levees have had $10 billion in improvements since 2005, and the city's pump stations have backup generators ready in case of electrical outages.
At 2 p.m. ET, Isaac was centered about 280 miles southeast of the mouth of the Mississippi River. The storm had top winds of 65 mph and was moving to the northwest at 14 mph, the Miami-based National Hurricane Center reported.
The projected track brings it ashore before dawn Wednesday in the marshes downriver from New Orleans. But tropical storm-force winds extended more than 200 miles from the center, and hurricane warnings stretched from Morgan City, Louisiana, to Destin, Florida.
Landrieu has not ordered an evacuation of his city, most of which is below sea level and protected by a network of levees. But he said he would "strongly urge" about 900 people who live outside the levee system to leave -- and if anyone else is thinking about getting out, "now would be a good time to go."
"It is a very large storm," Faulkner said. "And oftentimes we confuse and focus on a specific dot that may be identified as the center of the storm when very dangerous conditions may exist as far as 200 miles from that specific dot."
But Louisiana resident Ryan Unger plans to stay in place despite an evacuation order. He filled up gas tanks Sunday night in case he has to run his generator.
"Starting to get a little sense of anxiety, like, OK, am I ready for it?" he said. "Realizing we ain't really ready for a storm. So we're just all thinking about what we gotta do to get in place to get ready for it."