Isaac's Eerie Path: Storm is Following Katrina's Track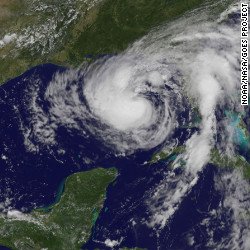 As the seventh anniversary of Hurricane Katrina's landfall approaches, New Orleans -- and much of the Gulf Coast -- is preparing to put into practice the lessons learned from that defining storm.
Tropical Storm Isaac is following a path eerily similar to Katrina's in 2005.
There are some obvious differences -- Isaac is much weaker than Katrina -- but the storm nonetheless will require Louisiana, Alabama and Mississippi to execute emergency management plans that were partly shaped by Katrina.
Thousands in Louisiana, Mississippi and Alabama on Monday were leaving their Gulf Coast homes under mandatory evacuation.
Louisiana resident Ryan Unger plans to stay in place despite an evacuation order. He filled up gas tanks Sunday night in case he has to run his generator.
"Starting to get a little sense of anxiety, like, OK, am I ready for it?" he said. "Realizing we ain't really ready for a storm. So we're just all thinking about what we gotta do to get in place to get ready for it."
On Monday morning Isaac was centered about 310 miles southeast of the mouth of the Mississippi River. It was forecast to become a hurricane "in a day or so," the National Hurricane Center said.
The governors of the three imperiled states each declared an emergency, with Alabama Gov. Robert Bentley ordering mandatory evacuations for residents who live along the coast and for those in some low-lying areas inland.
Some 9,000 residents in Jefferson Parish, Louisiana, were ordered to evacuate Monday morning. The towns of Jean Lafitte, Crown Point and Barataria are affected.
"We're worried about tidal surge," Jean Lafitte Mayor Tim Kerner said.
Louisiana Gov. Bobby Jindal called on residents in coastal parishes prone to flooding to voluntarily evacuate. A mandatory evacuation was ordered for St. Charles Parish and for parts of Plaquemines Parish.
Isaac heads toward northern Gulf Coast
Even pro football player Courtney Roby of the New Orleans Saints was a little nervous.
"Kinda a scary feeling of uncertainty," he said via Twitter.
A hurricane warning was in place Monday for the northern coast of the Gulf of Mexico, from Morgan City, Louisiana, east to Destin, Florida.
A landfall on Wednesday would coincide with the seventh anniversary of the arrival of the much stronger Hurricane Katrina.
Mississippi officials dispatched 1,500 National Guard troops to the state's three southern counties to help with emergency operations, as well as 45 state troopers to ease traffic flow.
The state has distributed 10,000 sandbags to residents ahead of the storm.
"In short, we have done everything in our power to be prepared for the storm," Mississippi Gov. Phil Bryant said.
Alabama authorities warned residents Monday that strong winds and high water may affect the state's coast even if the storm hits as far west as Louisiana.
"It is a very large storm," Alabama Emergency Management Agency Director Art Faulkner said. "And oftentimes we confuse and focus on a specific dot that may be identified as the center of the storm when very dangerous conditions may exist as far as 200 miles from that specific dot."