TWEF's Million Dollar Leadership Roundtable Breakfast
Vicky Pink | 8/29/2012, 6:08 p.m.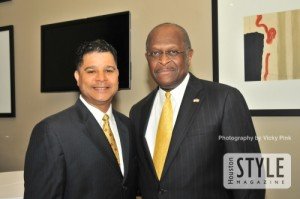 Photography by Vicky Pink.
On Thursday, August 23, 2012, Houston Style Magazine was on hand at the Royal Sonesta Hotel Galleria as Texas Women Empowerment Foundation hosted the Million Dollar Leadership Roundtable Breakfast. Some of the world's best business and financial minds participated in discussions on successful economic strategies and how to establish strategic partnerships for economic growth. The panel consisted of business magnate and author Herman Cain; President/CEO of Accion Texas, Inc. Janie Barrera; and the President of The Clifford Group, Cindy Clifford. State Rep. Sylvester Turner and banking mogul and founder of the International Trade Center-Houston, Wea Lee, chaired the event under the direction of TWEF founder Deavra Daughtry.