Angela Got Her Groove on Bassette
Marcus | 8/30/2012, 1:46 p.m.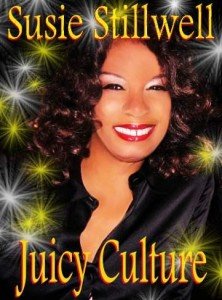 Born in New York City, but raised by her single-mom, Betty, along with her sister, D'nette, in St. Petersburg, Florida, Angela Evelyn Bassett studied acting at Yale University, where she received a Bachelor's degree in African-American Studies and a Master's in Theater. She began her professional career on stage, performing both on and off-Broadway in productions of "Ma Rainey's Black Bottom," "Colored People's Time," "Henry IV, Part I," "Joe Turner's Come and Gone," "Antigone," "Pericles" and "Black Girl."
Angela later landed what might be described as her breakout role as Reva Devereaux in John Singleton's BOYZ N THE HOOD, and she received additional critical acclaim for her moving performance as matriarch Katherine Jackson in the ABC mini-series "The Jacksons:  An American Family." Nominated for an Oscar in 1994 for her unforgettable portrayal of Tina Turner in WHAT'S LOVE GOT TO DO WITH IT, Angela is also a thirteen -time NAACP Image Award-nominee, winning for that picture along with THE ROSA PARKS STORY, SUNSHINE STATE, THE SCORE, HOW STELLA GOT HER GROOVE BACK, MUSIC OF THE HEART, WAITING TO EXHALE, RUBY'S BUCKET OF BLOOD and MALCOLM X..
The embodiment of dignity, pride and grace, she invariably electrifies audiences via her emotionally-charged characterizations. Away from the set, with her husband, actor Courtney B. Vance, she co-wrote 
FRIENDS: A LOVE STORY,
a best-seller published on Valentine's Day last year. The inspirational autobiography chronicles the real-life love story of Bassett and Vance, who were friends for many years before marrying.
In 2006, the couple became parents, celebrated the arrival of twins, daughter Bronwyn Golden and son Slater Josiah. Here, Angela talks about life, career and her new movie, Tyler Perry's Meet the Browns, where she stars opposite former NBA star Rick Fox.
SS/JC: Hi Angela, this is an honor. Thanks for the time.
AB: Sure.
SS/JC How was it being directed by Tyler Perry?
AB: It was great, even though there were some long, hot days in Atlanta. But, they weren't long enough.
SS/JC How about working with Rick Fox?
AB: It was absolutely delightful. He was a joy to work with.
SS/JC Even though you're such an accomplished actress, and he didn't have nearly the same amount of experience?
AB: That's true enough, but he has life experience, and he certainly brought all of himself to the moment. He wasn't afraid of hard work, and he was open and emotionally available. So, he won me over as a co-star.
SS/JC Where did you channel your character from? Have you ever known a single-mom at the end of her rope like Brenda?
AB: Oh, absolutely! My mom raised my sister and me single-handedly in Florida. So, day-to-day, I saw the struggles of doing it on your own without help, and how tired that makes you, and the dreams and aspirations you have for your children. I know that she pushed us in regard to getting our education, finding advocates in our principals and teachers at school.
SS/JC And she was quite successful, given your graduating from Yale.