World's craziest water slides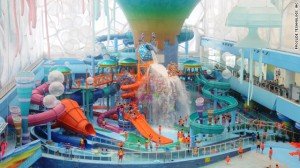 Style News Wire
As you speed along the ship's top-deck raft ride, waves break at the ocean's surface 150 feet below. It's an acrophobe's nightmare -- and could be the most thrilling moment of your next cruise vacation.
We've come a long way in the century since the Titanic, when that ship's heated swimming pool was a mind-boggling luxury. Now it's AquaDuck, the cruise industry's first water coaster, that's making a splash on board the Disney Dream and Disney Fantasy.
It takes pluck to stare down the AquaDuck and the rest of the world's craziest, record-breaking water slides. Some, like Brazil's 135-foot-high Insano, are traditional body slides, while others resemble intricate roller coasters and showcase innovation in water slide technology and design. Read on for more of the loopiest, crowd-pleasing water slides around the globe.
RideHouse
Where: Happy Magic Water Cube Waterpark, Beijing
When news broke that the cutting-edge Beijing National Aquatics Center (aka the Water Cube) would be converted into a theme park, expectations were high. And sure enough, China's first themed indoor water attraction debuted in 2011 tricked out with valves, cranks, jellyfish, buckets, water cannons, giant bubbles, climb nets and spray tubes -- and that's the short list of design elements.
Crazy Fact: RideHouse is made up of 12 slides (the most of any water-play structure in the world) and boasts its own giant water-filled cube that periodically soaks those waiting for their turn.
Toboggan
Where: Città del Mare Hotel Village, Palermo, Italy
Eleven slides form Sicily's most scenic water attraction, which runs down a cliff on the northwest coast of the island. On a sun-drenched summer day, the turquoise slide, which is open to guests of the resort, complements the clear-blue waters of the Gulf of Castellammare -- the end point of Toboggan. Keep your eyes open: The slide passes three decks, and each level delivers spectacular views of the 67-acre property.
Crazy Fact: A full top-to-bottom journey down this seaside slide will send you into four separate bodies of water: three pools and the Mediterranean Sea.
King Cobra
Where: Six Flags Great Adventure, Jackson, New Jersey
The king cobra is the world's longest venomous snake, so it makes sense that this eponymous ride, which opened in July, promises to be one of the craziest theme-park attractions. Resembling a massive cobra, the ride makes an intimidating first impression with its oversize black, yellow and bold orange scales and allows two tubes to zip up to 32 mph.
Crazy Fact: The ride's finale features a sudden 25-foot drop at a 50-degree angle that creates the illusion of riders being swallowed by the king's massive mouth.
Travel and Leisure: World's coolest bazaars
Wild Vortex
Where: Wilderness at the Smokies, Tennessee
This water-park resort has indoor rides -- with a giant glass roof -- that keep the thrills coming all year long. But adrenaline junkies will want to head outdoors for the newest challenge: the 66-foot-tall Wild Vortex, which debuted in June.