Spike Lee Adds to "The Chronicles of Brooklyn" Series with Red Hook Summer
Jo-Carolyn Goode | 12/28/2012, 3:26 p.m. | Updated on 12/28/2012, 3:26 p.m.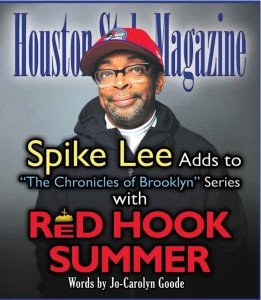 Storytelling is an art that is difficult to master. To be truly good, one must posses the ability to grabbed the attention of the viewer in such an uncommon way and stay true to who they are. One man that pops into mind that is consistent in this area at all times is Spike Lee.
He changed the way films were done in 1985 with the debut of She's Gotta Have It. Proving that you don't need a big budget to make a quality film. Over the course of two weeks with a budget of about $175, 000 his first feature film grossed over $7,000,000. That's talent. That's the result of a good storyteller. For years he has kept the stories coming, pushing the envelope with each new project. Adding yet another characteristic of a good storyteller, leave the people talking.
Lee's latest project Red Hook Summer is doing just that with movie lovers. Using the backdrop of his beloved Brooklyn, New York, Red Hook Summer is the newest edition to Lee's Chronicles of Brooklyn. In the classic case of young school meets old school, Flik Royale, played by Jules Brown, is forced to leave the comforts of his middle class lifestyle in the well to do area of Atlanta, GA to spend the entire summer in the less affluent lower class housing projects of Red Hook in Brooklyn, NY with a man he has never met. "You live one way and you are thrust into a different environment in another world, it's hard," said Lee about one of the main characters of the film. Although the man is unknown to Flik, he is not a total stranger to the family as he is the deeply religious grandfather of Flik, Bishop Enoch Rouse, played by Clarke Peters. Religion is just one of the walls built up between the grandson and grandfather as Bishop Rouse is determine to get Flik to be a follower of Jesus Christ. Their trying relationship also tackles the differing views on technology and race. As Flik tries to adapt to the culture shock that his new surroundings present and bond with his grandfather, a young girl, Chazz Morningstar, played by Toni Lysaith, catches his eye and gives things in Red Hook and his world a much better view. An unconventional cast of characters is sprinkled throughout the film portrayed by Nate Parker, Thomas Jefferson Byrd, James Ransone, Kimberly Hebert-Gregory, Heather Simms, Colman Domingo, De'Adre Aziza, and Jonathan Batiste.
Causing all the chatter is the back-story of the good bishop that haunts a lot of religious institution, childhood pedophilia. "No one is comfortable talking about pedophilia," said Lee. Not even the scriptwriters. Lee co-wrote and co-produced Red Hook Summer with James McBride who was against depicting the scene of the child and the Bishop's interaction in the film. However, Lee thought it was necessary for the overall production of the film. It is important to note that the scene was extremely hard for both actors to portray but both were made to feel as comfortable as possible in filming.