A Bond Strengthen by Pink Power
JGoode | 10/5/2012, 4:48 a.m.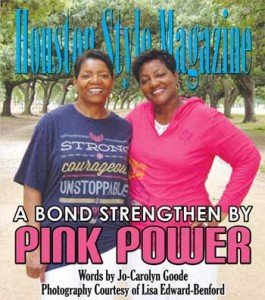 Delicate, fragile, soft are words associated with the color pink. Pink being thought of as powerful is almost laughable. However, a certain population of people give pink power! Breast cancer survivors give pink power daily when they face breast cancer head and on and say, "You will NOT defeat me." Ford Motor Company celebrates the women and men who give pink powerful with the Ford Warriors in Pink 'Models of Courage' Campaign. Always a supporter of breast cancer, Ford increased their support in 2006 with the introduction of the Warriors in Pink line of wear and gear and that grew into the Models of Courage campaign.  Nine women and two men (Yes, men can get breast cancer too.) were selected to be 2012 Models of Courage for the strength, bravery and courage they show in the face of breast cancer. Two of the lucky 11 are from Houston and they are mother and daughter.
"That's why you have to know your body," says Ruby Wilson. One day while doing a self-breast exam in 2000, she discovered a lump. She knew it had not been there so she immediately contacted her doctor. Even though two months earlier, Wilson had a mammogram that came back negative, she was diagnosed with breast cancer. Remembering back to her first thoughts, Wilson said, "I thought I was going to die and leave my family." Thanks be to God, Wilson didn't die. She survived and was made better. " Since I became a cancer survivor I am a better nurse. I am a better teacher." As a nurse at Methodist Hospital on the VIP floor, Wilson is a sort after person when it comes to teaching and helping newly diagnosed cancer patients. She never knew how the training of her new role as teacher would come in handy.
Eight years after Wilson's diagnosis, her teaching skills would come in handy for her newest cancer patient, her very own daughter. Lisa Edwards-Benford had received regular mammograms and they always came back negative until 2008. Don't think Benford was any more prepared or less scared from having gone through the experience with her mom. "When it comes to your body, there is a whole another reaction that you get. This is now a personal attack," said Benford. Having similar feeling like her mom of leaving her family and thinking God had abandoned her, Benford moved passed the angry she had for the diagnosis so she could heal. "After I made the treatment decision, it was like ordering at a restaurant. Give me the same thing my mom had."
Both women had courage and a good support system. Crediting their faith in God and family, the mother/daughter duo said they are now able to smile again and be a model of courage. "A Model of Courage is way that we can help someone else.
When you think about the word model, you think you are out there for support for other people," said Wilson. Now that is the mission of the ladies. They tell their story to anyone who will listen in hopes that it will inspire some newly diagnosis breast cancer warrior that she can make. So someone will know that they are not alone. To let someone know that early detection and education is the key stop breast cancer in its tracks. "Sometimes you may be meant to be angel to somebody else," said Benford about how she now counsels those with breast cancer and other illnesses "You can beat this. Your will can overcome your body. Your spirit can overcome this illness. We like to speak life into people."
Living life after surviving is so much sweeter. Wilson and Benford admit to hugging their love ones a little tighter, not sweating the small stuff, and not putting anything on hold. Wilson has become a traveler now. Often going cruises, something that she use to put on hold before breast cancer. Benford and her mom have always been close but being breast cancer survivors has brought them closer on a different level.
Houstonians can meet the duo Saturday, October 6, 2012, at Sam Houston Park in downtown Houston for the Susan G. Komen Race for the Cure beginning at 8am. Log on to www.komen-houston.org for more information.