The new American job: part-time?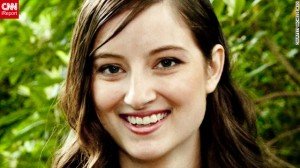 Style News Wire
Michelle Asci dreamed of capturing life through her camera lens. Asci had her sights set on being a photographer as she graduated with a bachelor of fine arts degree from Georgia State University in December.
But the 23-year-old is not working as a photographer. She's at a concession stand, selling popcorn or ushering people into their respective theaters before the midnight screening. Asci's been working part-time at the same Atlanta movie theater since 2005.
"It's going on to be eight years of this," she said. But working part-time at a movie theater was not what she saw herself doing with her degree, and she is not alone.
Last month's surprising drop in U.S. unemployment rates from 8.2% to 7.8% gave many hopes that the economy is improving, and the lower rates even beat the expectations of some economists. But a breakdown of the latest jobs report shows that more than half of the jobs added this month are part-time.
This leaves people like Asci wondering: Is the new American job part-time?
From law dreams to data-entry
Every day, Dolores Casillas holds her breath as she walks into the Chicago bank where she works part-time doing data entry. It's a temporary position, and she's heard her boss say time and time again that there might not be a job for her one of these days.
"There was someone at my job who was working for only three weeks, and she came in one day and didn't have a job. It's nerve-wracking," she said.
The insecurity of her part-time job is one reason behind the mounting stress facing the 27-year-old, who graduated from Northeastern Illinois University in 2010 with a degree in political science. Casillas, like many adults her age, has student loans along with a laundry list of other bills she needs to pay.
She lives with her mom to offset her expenses and started working as a film and television extra on the side to supplement the part-time pay she makes at the bank. This month, she is going to be an extra on a Chicago-based television show, acting as a housekeeper.
It's quite a departure from her dreams of becoming a lawyer. But she says those dreams are not realistic anymore when she thinks about the average cost of higher education.
"Law school's like, what, $75,000? I can't afford that. I tried looking for a paralegal job, but I couldn't find anything," she said.
"I feel like we are the confused generation," Casillas said. "My mom was 24 when she got her own house and had my sister. Both my parents had jobs then, here in America. When I think about that, I think to myself, 'Wow, I don't have any of that.' "
It frustrates Casillas to compare herself with her mother, who for the past 26 years has worked at a Chicago factory to support their family. "I thought I would get a better job than her because I have a degree. I never thought I would make less than my mom," she said.