Apple unveils smaller $329 iPad Mini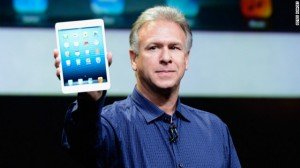 Style News Wire
Taking a cue from some of its competitors, Apple on Tuesday announced a smaller version of its popular iPad tablet -- the iPad Mini. And the company that introduced the concept of tablet computers to millions didn't waste any time bashing those competitor in the process.
"Others have tried to make tablets smaller than the iPad and they've failed miserably," said Apple senior vice president Phil Schiller. "These are not great experiences."
At a media event, he unveiled the 7.9-inch tablet, which is 7.2 millimeters wide (the width of a pencil, Schiller said) and weighs less than 7/10ths of a pound.
It will have the same display-resolution specs as last year's iPad 2, not the high-definition "retina display" of the newest iPad, which also got an update on Tuesday.
The iPad Mini's display will be nearly an inch bigger than those of competitors like Amazon's Kindle Fire and Google's Nexus 7. It will also be somewhat more expensive.
Pre-orders for the Wi-Fi-only device begin Friday, and the iPad Mini will go on sale in stores November 2. Models that have Wi-Fi and can connect over cellular networks will go on sale in a few weeks.
The device's screen has the same proportions as the larger iPads, meaning that apps designed for the tablet should also look good on the Mini. Apple promises 10 hours of battery life, and the Mini will have front- and rear-facing cameras like its bigger cousins. It also will have the "lightning" connector that came new on the iPhone 5 and new iPods.
"This isn't just a shrunken-down iPad," Schiller said. "It's an entirely new design."
As with other recent Apple events, today's main announcement wasn't much of a secret. Leaks ahead of the event sketched out most of the relevant details, from dimensions of the smaller iPad to what sizes it would come in.
The Apple event started off with upgrades to the Mac lineup, and a joke about expectations for the day.
"You knew there would be something called 'mini' in this presentation, didn't you?" said Schiller, while presenting an update of the company's smallest desktop computer, the Mac mini. It starts at $599 for 4 GB of RAM.
Schiller opened by unveiling the new version of Apple's top-selling MacBook, the 13-inch MacBook Pro.
The new version has a high-definition "retina display" screen for the first time and is 3/4 of an inch thick -- 20 percent thinner than the current 13-inch MacBook Pro. It weighs 3.5 pounds, making it the lightest MacBook Pro ever, Schiller said. Its price starts at $1,699.
Both the Mac Mini and the new MacBook Pro begin shipping today.
Schiller also showed off a sleeker and more powerful version of Apple's iconic desktop, the iMac. It starts at $1,299 and begins shipping in November.
Released only six months ago, Apple's newest full-sized iPad also got an update, getting a faster A6X processing chip, an improved camera and, like the iPhone 5, 4G LTE capabilities.