Turkish government asks Kurdish prisoners to end hunger strike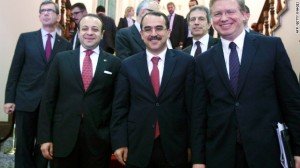 But PKK-related violence has spiked recently, reaching death tolls unseen in more than 13 years, according to a report published by the International Crisis Group, a non-profit conflict mediation organization.
The ICG argues Turkey's arrest and detention of more than 7,000 Kurdish activists over the past several years has contributed to the radicalization of some.
Erdogan "actually did more for the Kurds than anyone up until now," said Hugh Pope, senior Turkey analyst with the ICG, in a CNN interview last month. "(But) when a wave of massive arrests of legitimate Kurdish politicians began, that's when I think young people especially lost hope and the PKK's arguments for the legitimacy of armed struggle became persuasive to them."
In his appearance before journalists at Sincan prison, Ergin tried to draw attention to previous reform efforts.
"There has been progress in Turkey for a long time on expanding democratic rights," the justice minister said, adding that the government had made a pledge to try to allow the use of Kurdish language in Turkish courts.
Ergin did not address the demand for Ocalan's release.
Sonbahar of the Human Rights Association told CNN the hunger-striking prisoners were determined to continue their protest, even if it results in illness or worse.
"This is a perpetual and irrevocable hunger strike," she said.