TSU's 85th Homecoming Celebrates Leaders and Legends
JGoode | 10/26/2012, 2:50 a.m.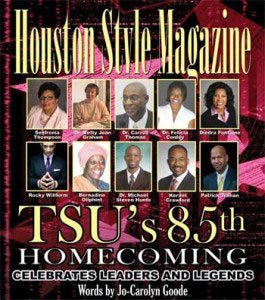 If your foundation is strong so will be your structure. Texas Southern University (TSU) has been and still is a strong foundation for today's top and future leaders. For 85 years Texas Southern University has produced more than doctors, lawyers, and teachers. They are the fuel behind the CEOs of major companies, the power behind top lawmakers, and the glue behind the innovators and dreamers of tomorrow. Texas Southern University is where leaders are created today to be the legends of tomorrow.
During the week of October 26 – November 3, the historically black Texas Southern University will honor its leaders and legends with its 85th Homecoming celebration. Jammed packed with activities for present, past and even future tigers to enjoy.
Honoring Our Leaders
One of the annual highlights is the Legends and Leaders Presidential Gala. The time-honored event pays homage to graduates of TSU who have achieved significant accomplishments in their chosen industry.Being a leader in your profession is certainly a way to be a representative for your institution. "I'm constantly reminded that, a university is only as strong as those individuals who carry its degrees. But what that means to me is that alumni have to be ambassadors for the university," said TSU President Dr. John Rudley. Some of TSU distinguish university ambassadors will be honored as TSU celebrates excellence with a tribute to 10 outstanding graduates.
The impressive list of tiger alum honorees includes an alum that has received three presidential citations for transitioning the Beaumont ISD to exemplary status. One alum has made a name for herself in the world of fencing. Another TSU graduate is the COO of a $50 million hip-hop blog company. While another alum is a renowned opera singer throughout Europe. All together TSU has complied a list of 10 of their distinguished graduates to celebrate their excellence on Friday, November 2nd at the Westin Galleria Hotel. TSU's president, Dr. John Rudley, will present the 2012 honorees with presidential awards. Representing different colleges and schools housed at TSU the honorees are Dr. Felicia Conley, Forensic chemist, Department of Drug Enforcement, Dallas, TX, TSU's Graduate School honoree; Kermit Crawford, President, Walgreens Pharmacies, College of Pharmacy and Health Sciences; Dr. Bettie Jean Graham, National Institutes of Health Program Director, College of Sciences and Technology; Deidra Fontaine, United Airlines Director of Diversity and Inclusion, Jesse H. Jones School of Business; Dr. Michael Steven Hunte, Methodist Dallas Medical Center Emergency Room Physician, TSU's Dr. T.F. Freeman Honors College; Bernadine Oliphint, Internationally Acclaimed Opera Singer, College of Liberal Arts & Behavioral Sciences; Dr. Carroll Thomas, Beaumont Independent School Superintendent, College of Education; Senfronia Thompson, Texas State Representative, Thurgood Marshall School of Law; Patrick Trahan, Exxon/Mobil Chalmette Refining L.L.C's Public & Government Affairs Manager, School of Communication; and Rocky Williform, Hip Hop Blog Chief Operating Officer, Barbara Jordan/Mickey Leland School of Public Affairs.
Ain't No Party, Like a TSU Party
Tigers will party with the stars during homecoming 2012. Key to TSU's homecoming celebration is the hip-hop and R&B concert with headliner Erykah Badu and Kendrick Lamar. The concert will be held on Saturday, November 3rd at 8pm in the H&PE Arena. Tickets are just $40. Those are not the only stars on the Tiger Walk. "Meet the Browns" Tamela Mann will kick off homecoming festivities with hallelujah praise for the Lord at the Gospel Explosion on Sunday, October 28th at 4pm in Sawyer Auditorium on the TSU campus. Tickets are $20. Tigers will crack a funny bone thanks to comedians Rob Stapleton, Cocoa Brown, Double D, and Dominique, who will perform Thursday, November 1st at 7pm in Sawyer Auditorium on the TSU campus. Tickets for the comedy show are $20.