McIlroy shows Woods who's No. 1 at 'Duel' in China
10/30/2012, 3:35 a.m.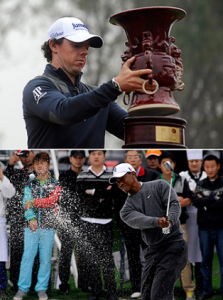 By Alan Shipnuck, Senior Writer, Sports Illustrated
StylE News Wire
Monday  morning at precisely 9 a.m. here, a phalanx of Rolls-Royces rolled through this industrial city in central China, ferrying Rory McIlroy and Tiger Woods to their latest date with destiny.
Woods has already had an outsized role in the narrative of McIlroy's breakthrough season. In March, when McIlroy won the Honda Classic to ascend to  No. 1 for the first time, the 23-year-old boy king was pushed to the limit by Woods's closing 62. "It had to be Tiger," he said afterward. At the PGA Championship, Woods had a piece of the lead through two rounds, but McIlroy blew him away by 13 strokes on the weekend. During this fall's FedEx Cup, a ton of buzz was created by their frequent pairings. Duly inspired, McIlroy won in Boston and Chicago.
Throughout his career Woods has ranged from standoffish to hostile with his would-be rivals, so it has been startling to see his affection toward McIlroy. (Only a cynic might suggest he's aiding in Nike's rumored recruitment.) But two weeks before arriving in Zhengzhou, they had a revealing dustup at a big-money unofficial event in Turkey. McIlroy had treated the whole week like a working vacation and was looking forward to a fun game with his new buddy. For Woods it was jihad, and he beat McIlroy 64-70. On reflection, McIlroy said, "I think that's where we differ as characters. The day we played he was on the range at 6:30 in the morning; we're not supposed to be playing til like noon. I'm getting up at 10, having a leisurely breakfast, rolling onto the course with half an hour to go…"
Looking ahead to the rematch, McIlroy wouldn't be caught off guard again. "I'm ready to play this time," he said, with a little heat.
It took a deep-pocketed Chinese real estate magnate to bring them together for this exhibition, which meant little but was richly symbolic. "The Duel at Jinsha Lake" was so named to better publicize the host development, a buggy, Florida-style golf course that will soon be dotted with more than 300 huge, charmless villas. They were being sold for up to $20 million to Chinese robber-barons.
Tuesday's  match had the feeling of a heavyweight prize fight mixed with the county fair. Opening ceremonies were over-the-top even by Chinese standards: a drum corps, fireworks, a confetti shower, stunt planes, a ceremonial gong. McIlroy and Woods kept stealing glances at each other, trying to hold in their laughter.
On the golf course, the scene was barely-controlled chaos. Some 3,000 fans streamed across the fairways, with soldiers locking arms in a human fence to keep the throngs off the greens. On the tee boxes there were so many camera clicks it sounded like machine gun fire. McIlroy was ready to play from the jump, stuffing his approach on the first hole for a birdie. On the par-4 third, McIlroy birdied and Woods bogeyed, and just like that the deficit was three strokes.