Booming illegal ivory trade taking severe toll on Africa's elephants, groups say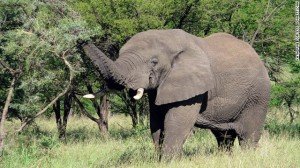 "With the price of ivory skyrocketing over the past few years, it becomes a very lucrative business for local people," Huijbregts said.
The wildlife wardens are often outgunned by the poachers, whose growing use of automatic firearms and other weapons has been documented by conservation groups.
They are also now confronting not just local poachers, but also seasoned fighters from war-torn areas of the continent like Sudan, conservationists say.
Once the ivory has been harvested from the slaughtered elephants, it is transported across thinly and badly policed borders to ports in countries like Kenya and Nigeria. From the trading hubs, it is shipped abroad, mainly to Asia.
"Most illegal shipments of African elephant ivory end up in either China or Thailand," according to TRAFFIC, an organization that monitors the wildlife trade.
The biggest demand is from China, Huijbregts said, where ivory household items, like chopsticks, are increasingly sought after by tens of millions of people newly enriched by the country's past decade of meteoric economic growth.
Ivory is also purchased as a collector's item or for investment, Gabriel said.
Thailand is also a good market for the criminal gangs that traffic the ivory because it is a popular tourist destination with weak laws governing the sale of ivory products and lax policing, according to Huijbregts.
Despite the bleak situation, efforts are under way to clamp down on the illegal trade, as the increase in elephant killing damages governments' credibility and, in the case of incursions by foreign poachers, presents possible security threats.
Some African countries are starting to share information about poaching between them, Huijbregts said. And Interpol has joined efforts to investigate those involved in the trade of ivory and other illicit wildlife products.
The U.S. government has also been "extremely active in the Congo Basin region in putting pressure on governments to take this issue seriously," according to Huijbregts.
"There is light as well as darkness," he said.