Hands-off approaches OK for sleepless infants, study says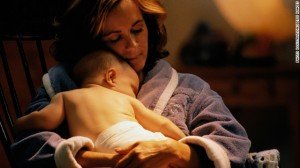 An infant who cries through the night -- or even a fraction of the night -- can have a big impact on a household. Parents who repeatedly wake up to soothe and cradle their baby may find themselves sleep-deprived, stressed-out, and even depressed.
This is especially true for mothers, who tend to be the primary nighttime caregivers. Having an infant with sleep problems roughly doubles a mother's risk of experiencing depression symptoms, by some estimates.
"If the infant or child doesn't sleep, the parent doesn't sleep, and this can have an impact on the parent's mental well-being, as well as productivity in the workplace," says Dr. Patricia Ritch, a pediatric neurologist and sleep specialist at Scott & White Healthcare, in Temple, Texas.
Growing awareness of the fallout from infant sleep problems has spurred specialists to develop a repertoire of bedtime routines designed to help babies -- and by extension, their parents -- sleep better.
These methods have produced promising results. A landmark 2007 study from Australia, for instance, found that controlled comforting and camping out reduced the odds of infant sleep problems by 50% and maternal depression by 60%, compared to a control group.
The study followed children only until age 2, however. And some pediatricians have expressed concern that hands-off strategies like controlled comforting may harm children over the long term, by disrupting brain development, mother-child bonding, or the child's mental health, says Dr. Tarig Ali-Dinar, a pediatric pulmonologist who researches breathing-related sleep disorders at the University of Miami Miller School of Medicine.
A follow-up to the 2007 study, published today in the journal Pediatrics, may help quiet some of those concerns. The same research team tracked the mental health, behavior, and stress levels of 326 children from the original study up to age 6, and found no differences between the groups who did and did not follow the bedtime routines.
Nor did the researchers turn up any differences in the quality of the children's relationships with their parents or the mother's depression levels, suggesting that the routines have little lasting effect, good or bad, beyond infancy and early toddlerhood.
"The findings were very pleasing, in that at least we can put to rest what had been discussed in the past about an adverse impact on infant development, mother-child relationship, and maternal depression," says Ali-Dinar, who was not involved in the study.
For infants, in fact, having a depressed mother could conceivably pose greater long-term risks than having a mother who uses hands-off sleep techniques.
A second study appearing in the same issue of Pediatrics highlights just one of the long-term concerns associated with depression in mothers. In that study, infants whose mothers were depressed had higher odds of being in the 10th percentile or less for height at ages 4 and 5, even after various health and socioeconomic factors were taken into account.
Possible explanations for the children's short stature include "poor parenting behaviors," malnutrition stemming from haphazard meals, and chronic stress, the authors suggest.