FDA-approved diet drug Qsymia now available with prescription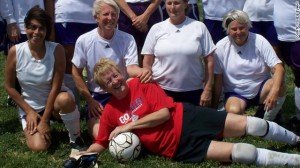 Meg Evans, one of the patients, started out at 230 pounds and lost 48 pounds her first year on the drug and another two pounds the second year.
"I loved it," she said. "I wasn't hungry. I almost had to remind myself to eat."
At 5 feet 9 inches tall, Evans, now 63, describes herself as having been "Twiggy-like" in college, weighing 120 pounds. Then she gained weight after having four children. An avid cook and eater, she said the drug made it easier to resist tempting foods.
"If I saw a chocolate-chip cookie, it was easy enough for me to say, 'I'm not really hungry. I can pass on it,' " Evans said.
She said the weight came off gradually, about four pounds a month, and her blood pressure went down almost immediately.
In February, Dr. Michael Lauer was one of two FDA advisory committee members who voted against Qsymia's approval.
"I believe that if the public were to 'buy' (Qsymia) after FDA approval, it would run the risk of severe, even fatal, consequences from another diet lemon," Lauer wrote in Annals of Internal Medicine, also noting that the drug led to a slight increase in heart rates.
The FDA and Vivus both acknowledge that the three clinical trials meant to measure Qsymia's safety and effectiveness were not designed to properly assess cardiovascular risk.
The FDA has required Vivus to do a study on the drug's cardiovascular effects. Vivus earlier said it would be done after the drug's approval.
Despite the label's warning that women of childbearing age should use birth control while on Qsymia, there are concerns that women will still get pregnant while on the drug. The FDA recommends a pregnancy test every month while on Qsymia.
In the drug-maker's two-year clinical trial, 34 women on Qsymia became pregnant, even though they were told repeatedly to use contraception. No birth defects happened in those pregnancies, according to the company.
Previous clinical trials of topiramate, one of the ingredients in Qsymia, have shown a risk of about five birth defects for every 1,000 pregnancies.
Comparing the anti-obesity drug to treatments for other chronic diseases, Troupin said patients will probably need to continue taking Qsymia long-term, though the new drug is not expected to be widely covered by health insurance plans.
FDA rejects another obesity drug
Evans, the patient who lost 50 pounds on the drug, said she has gained back about 20 pounds since the clinical trial ended two years ago and looks forward to going on Qsymia once it's approved, even though it can have side effects.
"There are side effects to everything," she said.
She added that the drug wasn't the only reason she lost weight. Weekly counseling on nutrition and exercise were a big factor, too.
The counselor helped her change her diet -- choosing a salad for lunch instead of a burger, forgoing pasta and potatoes at dinner -- and encouraged her to walk a few times a week in addition to her regular exercise as goalie in a women's soccer league.
"Before the medicine, I had been telling the girls they'd have to find a new goalie, because I couldn't dive for the ball like I did before," she said. "Then I lost the weight, and I was diving and bouncing back up and having a great old time again."