"Business Woman Turns Painful Past Into an Award Winning Novel"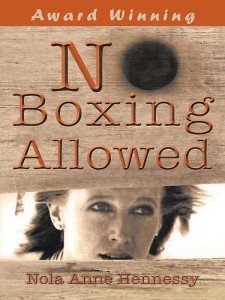 No Boxing Allowed is an award winning novel by Nola Anne Hennessy that shows us how to break free and not allow ourselves to be boxed in by life's restrictions.  Hennessy details how releasing the personal power within can create a positive change in our lives and the lives of those around the globe.
Hennessy did not let her past determine her future.  After leaving an unhappy marriage, she took the path of positivity opposed to self pity and destruction and inspires the reader to change their behaviors for a more positive life.  No Boxing Allowed does not equate a successful or positive life with material possessions.  Hennessy delves deep to allow us to re-evaluate why we are here on Earth and what we offer can make the world a better place.  In today's society it is inspiring to read a book that teaches how being selfless can lead to success.
Nola Anne Hennessy was born in Sydney, Australia.  She was named one of Rotary International's Inspirational Women of 2011.  Nola has an extensive career of managing people and became a senior manager before the age of 20.  She received an Honorable Mention at this year's New York Book Festival (category: Spiritual Books) and in 2011 received the Pinnacle Award (category: Inspirational Books) at the North American Bookdealers Exchange (NABE). No Boxing Allowed is available at www.balboapress.com, www.amazon.com and www.barnesandnoble.com.
Hennessy spoke with Houston Style Magazine about her award winning book.
It depends on the circumstances.  Often times, people close to us have expectations that are based on assumptions driven by their own thought process.  Those expectations are driven by perceptions.  We need to understand the reasoning behind their expectations and talk it out with that parent or loved one. I am.  People first need to recognize that they are self-indulgent. Someone who is selfless is quickly recognized as selfless. Selfishness is a trait that the soul needs to learn not to be and it takes time for the soul to be delivered from that.  I will continue to be an advocate for the benefit of selflessness. These kinds of sentiments can be utilized by politicians to create great change.  Change   can make a great impact in Government. Politicians need to do a risk assessment on what they believe is good for the country. They need to look at scenarios that will play out if certain decisions are made.  Politicians need to understand their personal power.  The decisions they make can turn the titanic of the country away or toward the iceberg. It's a combination of things. Life experiences and how we were taught and raised can have a factor in our thought process of positional power. When people take a time management course they are taught how to be productive with their time.  I've never seen a time management seminar that addresses time as positional power.  People deserve common courtesy.  Little things make the biggest impacts. People can get to the point where they say they are okay.  People don't want to see anything other than the good.  They don't want to accept that they are not perfect.