The 7th Annual Female Success Factor Top 25 Women of Houston Awards Presented By Comerica Bank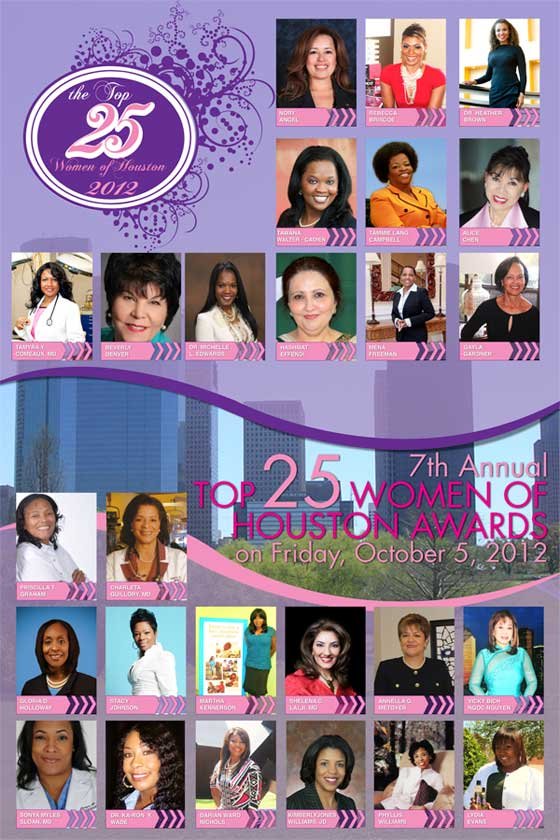 th Annual Top 25 Women of Houston Awards presented by Comerica Bank. Tenacity, discipline and diligence are just a few of the criteria for making the list. This year's awardees have broken barriers in their respective fields and left an indelible mark on the face of Houston.The Steed Society is pleased to announce the 7
"Comerica Bank is proud to present the Steed Society's 2012 Top 25 Women of Houston Awards, which honor the superlative work of some of our most influential corporate and community leaders," said Irvin Ashford, Jr., Comerica's Senior Vice President and Director of Community Development and External Affairs. "We congratulate this year's honorees, who have demonstrated core values of hard work and integrity, and have helped improve the Houston community through their tireless efforts."
Friends, family and colleagues will laud the accomplishments of these outstanding leaders during an awards dinner at The Houstonian, located at 111 North Post Oak Lane, on Friday, October 5, 2012 at 7:00 p.m.
The Top 25 awards also honor The Steed Society's Junior Youth Initiative Mentoring Program; in which twenty-five Jack Yates High School junior and senior girls attended workshop sessions on leadership, etiquette, financial literacy and college planning lead by past Top 25 honorees.
Additional sponsors of the 7th Annual Top 25 Women of Houston Awards presented by Comerica Bank are the Texas Women's Empowerment Foundation, Lane Staffing, Amerigroup and McDonald's. Media partners are rolling out, D Mars Business Journal and NewswireHouston.com.
For more information on sponsorship, media access, interviews or tickets ($200), please contact Kimberly Floyd at (713) 645-1350 or e-mail kim@steedmedia.com.
The 2012 Top 25 Women of Houston Honorees are as follows:
Nory Angel, M.B.A. – Executive Director & CEO, SER-Jobs for Progress, Inc;
Rebecca Briscoe – National Entertainment Reporter, Houston Style Magazine;
Dr. Heather Brown –Owner & Orthodontist, Dr. Heather Brown Orthodontics;
Tawana Walter-Cadien, eM.P.A., R.N., B.S.N. – Candidate for United States Congress, District 10 of Texas;
Tammie Lang Campbell – Founder & Executive Director, Honey Brown Hope Foundation;
Alice Chen – Financial Advisor and Functional Manager, MetLife Financial; Community Liaison for Congressman Al Green (9th District of Texas);
Tamyra Y. Comeaux, M.D., N.M.D. – Owner, Natural Women's Care and Vita-Doc;
Beverly Denver – Editor & Publisher, Houston Woman Magazine.;
Dr. Michelle L. Edwards, N.P. – Founder & Managing Director, PICC Health Institute;
Hashmat Effendi – Founder & Executive Director, House of Charity;
Mena Freeman – Agent, New York Life & Financial Services Professional;
Gayla Gardner – Co-Founder, Twelve Days of Christmas, Inc.;
Priscilla T. Graham – Community Executive Director, Houston Texans YMCA of Greater Houston;
Charleta Guillory, M.D., F.A.A.P. – Associate Professor of Pediatrics, Baylor College of Medicine and
Director of Level II Nurseries, Director of the Neonatal-Perinatal Public Health Program, Texas Children's Hospital;
Gloria D. Holloway – Owner & Operator, K.N.G. Enterprises, Inc. dba as McDonald's;
Stacy Johnson - CEO, Artistic Director & Executive Producer, Visual Arts Production;
Martha Kennerson – VP Marketing, Amerigroup & Author of "Choices";
Shelena C. Lalji, M.D., F.A.C.O.G. – Author, Speaker, & Women's Health Advocate; Founder and Medical Director, Dr. Shel Wellness and Medical Spa;
Annella G. Metoyer – Houston Market President, Capital One;
Vicky Bich Ngoc Nguyen – Chief Executive Officer, Vietnamese American Network Television VANTV Houston Ch.55.2;
Sonya Myles Sloan, M.D. – Orthopedic Surgeon and Founder/Executive Director, ME & WE Inc.;
Dr. Ka-Ron Y. Wade, B.S., B.S.N., D.D.S. – Cosmetic and Neuromuscular Dentist, Cosmetic Dental Texas-Dr. Ka-Ron Y. Wade;
Darian Ward Nichols –Public Information Officer, Houston Airports;
Kimberly Jones Williams, J.D. – Chief Administration Officer, Capital Programs, Metropolitan Transit Authority of Harris County;
Phyllis Williams – Owner, Birdiewear;
Lydia Evans, L.M.E. - Spirit of Business Award Winner – Founder & Product Designer, La Bella Dolce Body Care