How smartphones are the new wingman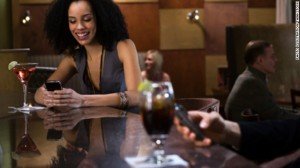 [caption id="attachment_70272" align="alignnone" width="300" caption="Smartphones and location-based social apps are changing how people date in 2012. "]
Style News Wire
Malia checks Blendr, the location-based networking app, on her phone six or seven times a day, sorting through messages from strangers who know she's in their vicinity and responding only to the ones who don't seem creepy.
Though she is surrounded by people in Los Angeles, the 23-year-old waitress finds that her smartphone is still helpful for meeting new friends or potential romances.
"I catch happy hours with people, meet friends, maybe go on dates here and there," explained the woman, who asked that her last name not be used. "You meet a lot of people who are very spontaneous."
Online dating used to be largely a deskbound activity. But in recent years, mobile apps like Blendr have employed constant Internet access and location-based services to turn the smartphone into a wingman of sorts. Phones now give singles the ability to find someone who's available, and nearby, at a moment's notice, bringing a bit of serendipity back to the Internet dating scene.
Profile-based dating sites such as Match.com and eHarmony suffer from a courtship delay. After you open an account, much of your time is spent browsing and filtering -- tentatively messaging strangers, screening them on the phone and over e-mail and instant message before finally setting up coffee dates with the few deemed worthy. This extra caution is probably smart, but it discourages spontaneity and leaves almost too much time to rule people out based on picky details.
But today's mobile location apps, which work with a phone's built-in GPS, connect lovelorn singles who have something more urgent in common: proximity.
The gay community was first to recognize the potential for location-based networking. The popular gay-meet-up app Grindr was released in 2009. Grindr taps into the smartphone's location information to show to-the-point profiles of men in a certain radius who are available to meet.
"Grindr solves a very big problem in the lives of gay men," explained Grindr chief executive Joel Simkhai. "How do I find other gay men?"
The app has been a global success, with 1.1 million daily active users in 192 countries (that means just four countries don't have at least one person on Grindr).
With a few tweaks -- beefed-up privacy settings, expanded profiles -- Grindr then rolled out Blendr for straight singles. The straight app hasn't been as huge of a hit just yet (though it's doing especially well in Australia).
OkCupid, one of the hipper, younger-oriented dating services, also made its own location-aware app last year called OkCupid Local. Users can find people nearby who are on the service, and the app recommends potential dates by using data users provide when filling out extensive profiles.
Match.com and eHarmony have also gone mobile, but their apps are still more like window shopping -- flipping through profiles and judging the ratio of wit to sincerity, seeing what the algorithm has to say about your chances of hitting it off -- than finding a potential romance in the coffeeshop down the street.