25th Annual Thelonious Monk Institute of Jazz Drums Competition & All-Star Gala Concert Sponsored by Cadillac
Vicky Pink | 9/28/2012, 6:32 p.m.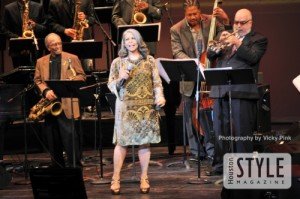 Photography by Vicky Pink.
On September 22-23, 2012, Houston Style Magazine was on hand at the Kennedy Center for the 25th annual Thelonious Monk International Jazz Competition and "Women, Music and Diplomacy" All-Star Gala Concert presented by the world-renowned Thelonious Monk Institute of Jazz, in partnership with Cadillac, this year's Presenting Sponsor. Through the competition and its numerous educational programs, the Institute is committed to identifying and training the world's leading young jazz musicians who will preserve the traditions of jazz while expanding the music in new directions. Open to musicians under age 30 from across the globe, this year's competition shined the spotlight on the drums. Twelve semifinalists competed at the Smithsonian Institution on Saturday afternoon, September 22. From this group, the judges selected three finalists who performed in the final round at the Kennedy Center on Sunday evening, September 23. Carl Allen, Brian Blade, Terri Lyne Carrington, Jimmy Cobb, Peter Erskine, and Ben Riley were the drumming panel that named Jamison Ross the winner of the Thelonious Monk International Jazz Drum competition. For his win, Ross won more than $100,000 in scholarships and prizes, including a $25,000 first place scholarship and guaranteed recording contract with Concord Music Group. The Gala highlighted the contributions of women in jazz over the past century. Under the musical direction of George Duke, special musical segments featuring a multi-generational group of all-stars performed in tribute to artists including Lena Horne, Anita O'Day, Mary Lou Williams and Ella Fitzgerald. Performers will include Geri Allen, Patti Austin, Jane Ira Bloom, Randy Brecker, James Carter, Vinnie Colaiuta, Claire Daly, Akua Dixon, Nnenna Freelon, Roberta Gambarini, James Genus, Jimmy Heath, Ingrid Jensen, Mark O'Connor, Linda Oh, Gretchen Parlato, Lee Ritenour, Ada Rovatti and Wayne Shorter, along with special guests Aretha Franklin and Chris Botti. The evening's hosts will include Tipper Gore, Herbie Hancock, Helen Mirren, Thelonious Monk Jr., and Billy Dee Williams.