First Lady Obama's Challenge to Make a Change by Voting
JGoode | 9/28/2012, 5:28 a.m.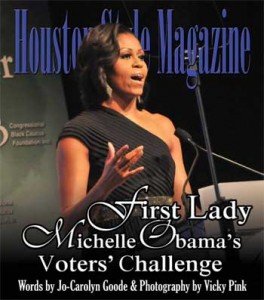 nd Annual Legislative Conference Phoenix Awards Dinner held in conjunction with the Congressional Black Caucus. While still gasping for air over her Hollywood glam look, First Lady Obama then had attendees on the edge of their seats as they hung on her every word of her 20-minute keynote address.Dressed in a floor length Michael Kors gown, First Lady Michelle Obama looked stunning as she took the audience's breath away at the 42
Tooting the horn of the Congressional Black Caucus for past accomplishments to make our union more perfect, she urged the body that now is not the time to seat back and relax for the work is still plentiful. "While there are no more "whites only" signs keeping us out, no one barring our children from the schoolhouse door," said Mrs. Obama. "We know that our journey is far, far from finished."
To win the journey, we must start at home with our own families. Giving the examples of turning off the TV to help children with homework and encouraging healthy eating and exercise, Mrs. Obama says home is where real change starts. And we can't stop at our foot doors but we must then infiltrate our communities to do the same and take our voices and our vote to the polls. We must speak up to lawmakers to allow our voices to be heard. We must be more action than talk. In essence Mrs. Obama is saying that Americans can decide their fate because they are the ones who put those who make laws in office when they vote. Her message was don't let others make decisions for you, that's what happens when you don't vote. "While we're tuning out and staying home on Election Day, other folks are tuning in," said Mrs. Obama.
While charging attendees to "phone-calling, letter-writing, door-knocking, meeting-planning kind of work," First Lady Obama said, "And that is how we carry on that precious legacy we've inherited — by recommitting ourselves to that day-to-day work that has always paved the way for change in this country."
We know it is that kind of work that involved human capital that help to elevate President Barack Obama when he ran for presidency the first time. It is the same kind of work that will propel him to a second term of office.
Mrs. Obama's message was to not let distractions deter attendees from voting. Don't let not having any spare time to vote silence your voice. Don't be fool to think that it's not important to vote every year during every election. Don't fall in the trap that looks, gender, or love interest determine whether you can vote. Don't let showing your ID angry you to vote. "This is the movement of our era — protecting that fundamental right not just for this election, but for the next generation and generations to come. Because in the end, it's not just about who wins, or who loses, or who we vote for on Election Day. It's about who we are as Americans. It's about the democracy we want to leave for our kids and grandkids. It's about doing everything we can to carry on the legacy that is our inheritance not just as African Americans, but as Americans — as citizens of the greatest country on Earth," First Lady Obama said.
Whether you vote democratic or republican on Election Day, just vote. Let your voice be heard. For too many died to give you that right!!!!