GM Foundation Grants $100,000 Grant to Howard University During CBC
Vicky Pink | 9/28/2012, 6:46 p.m.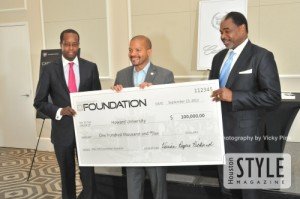 Photography by Vicky Pink.
Cadillac hosted a Cadillac Conversations VIP Reception to congratulate the 2012 Thelonious Monk Institute of jazz Drums Competition finalists. The General Motors Foundation awarded a $100,000 grant to Howard University to be used toward its science, engineering, mathematics and technology (STEM) and related curriculum, as part of the Foundation's University Grants program. As the General Motors liaison to Howard University, Don Butler, U.S. Marketing Vice President for Cadillac, presented the grant to the university on behalf of the GM Foundation. In his role, Mr. Butler works with Howard to understand the educational philosophies of its faculty and administrators. In 2012, through the University Grants program, the GM Foundation will provide funding to more than 30 universities across the country to advance STEM and related curricula that supports innovation, technology and manufacturing. The Foundation has supported programs at nearly 60 universities over the last five years through the grant program.