Turkish Airlines Inaugural Flight Takes Off from Houston's George Bush Intercontinental Airport
Style Magazine Newswire | 4/2/2013, 12:25 p.m. | Updated on 4/2/2013, 12:25 p.m.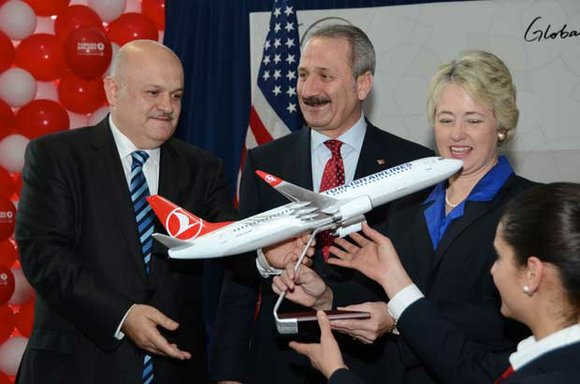 Turkish Airlines, one of the world's fastest growing airlines, is expanding its presence in the United States. Today marks the launch of its newest gateway in Houston, Texas. Houston becomes the fifth U.S. gateway, joining Los Angeles, New York, Chicago and Washington, D.C. The airline will offer non-stop flights from George Bush Intercontinental Airport (IAH) to Istanbul's Ataturk International Airport (IST).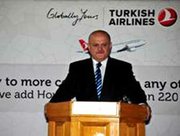 "We're delighted that Turkish Airlines can now serve the Houston community and better connect them with our services to 220 destinations globally via Istanbul," says Hamdi Topçu, Turkish Airlines' chairman of the board and chairman of the executive committee. "Houston is a mecca for international travel. Our hope is that these new flights will make international travel easier and more convenient for both business and leisure travelers in the area."
Members of the media, along with Hamdi Topçu, Houston Mayor Annise Parker, the Consul General of Turkey in Houston Cemalettin Aydín, Turkish Minister of Economy Zafer Çağlayan, and Houston Airport System Director of Aviation Mario Diaz, attended the launch event at Terminal D at George Bush Intercontinental Airport before Turkish Airlines' inaugural flight. The event featured authentic Turkish cuisine, live entertainment, a ribbon cutting ceremony and speaker remarks by top officials from local government, Turkish Airlines, the Turkish government and the Houston Airport System.
"The direct flights to Istanbul will strengthen trade, investment and tourism ties for Houston in Turkey," said Mayor Annise Parker. "I will lead a trade mission later this month to Istanbul to capitalize on the new air service and develop more economic relationships that will build a stronger bond between our global markets."
For the first time ever, Houstonites will be able to experience firsthand Turkish Airlines' unparalleled service, award-winning gourmet cuisine and amenities on the Boeing-777 ER aircraft en route to Istanbul. Houston service will start with four flights per week: Mondays, Tuesdays, Fridays and Saturdays. Beginning July 3, 2013, flights from IAH to IST will increase to six times per week: Mondays, Tuesdays, Wednesdays, Fridays, Saturdays and Sundays.
"This new route positions Texas with a new strategic advantage for international commerce since more than 300 Houston companies have business or trade ties with Turkey," said Mario C. Diaz, Director of the Houston Airport System. "In addition, Turkish Airlines offers outstanding connections from Istanbul, where a connecting passenger is only three hours flying time to 50 different counties."
Thirty-nine million passengers flew with Turkish Airlines in 2012 and that number is expected to grow by nine million this year, resulting in a 20% increase compared to 2011. With Houston being the fourth largest city in the United States in terms of population and home to thousands of Turkish residents it was a natural choice for the airlines' next gateway. Houston is comprised of many different ethnic communities, many whom travel frequently to their homelands. Trade missions between Texas and Turkey have dramatically increased over the past few years and with the introduction of Turkish Airlines in the Houston market, investment opportunities will multiply.